This review is a result of months spent on an exhaustive examination of the offers and services provided by the brokerage firm, SpreadEx. In its aim of rendering a pointed and well-informed assessment of the firm's capabilities, the review team opted to look at the following facets:
The firm's regulatory status

The trading instruments that the firm gives access to

The trading accounts available through the firm

The trading platforms that come with the trading accounts


About Spreadex
Based in the United Kingdom, SpreadEx is a brokerage firm that specializes in offering three betting classifications: 
Financial Spread Betting

Sports Spread Betting

Sports Fixed-Odds Betting
SpreadEx was founded back in 1999 in Dunstable, Bedfordshire by Former City Dealer Jonathan Hufford. Hufford wanted to bring spread betting to the greater public, thus building the firm around the goal. After its tenure of nine years, SpreadEx moved its headquarters to St. Albans in Hertfordshire.
To keep up with the times, Spreadex started offering online sports betting services in 2006. Soon after, the company established its own online trading platform.
After four more years, Spreadex started offering sports betting services, with bets being executed in both fractional and decimal format.
SpreadEx takes cues from the Financial Conduct Authority (FCA), the regulatory body that sanctions all the trading activities of firms based in the United Kingdom.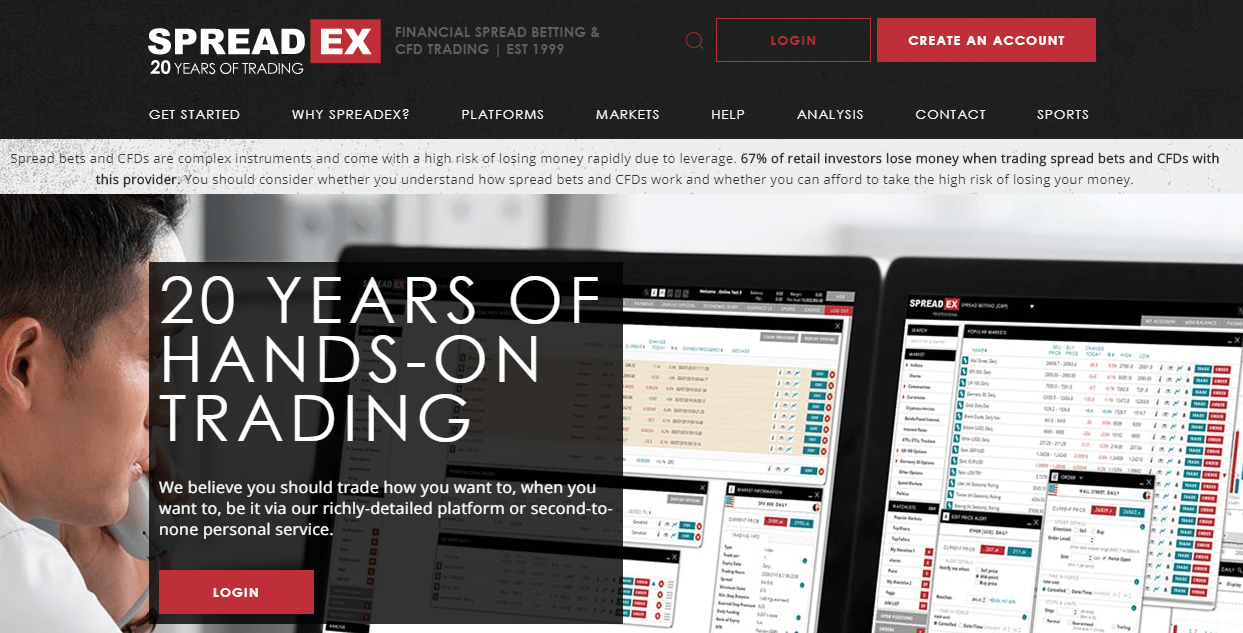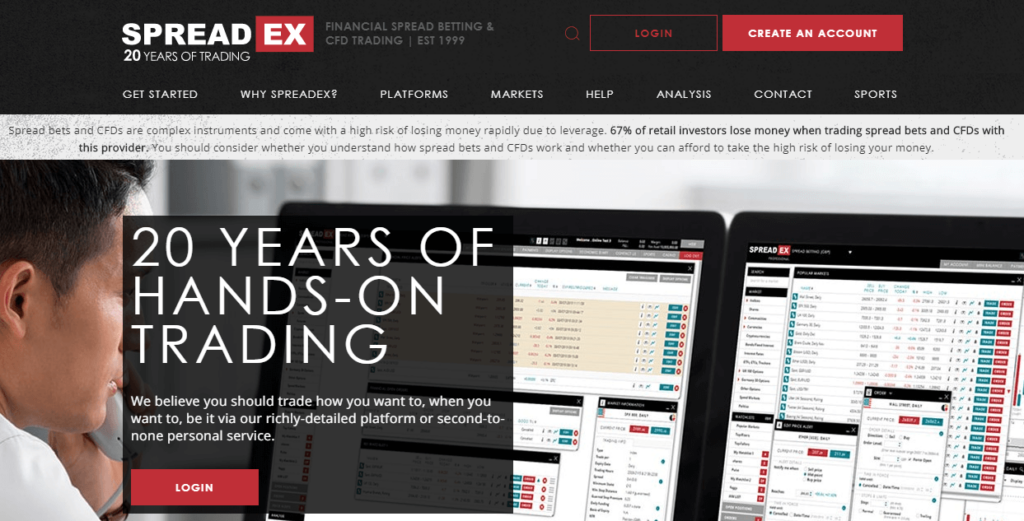 Offers and Services
Accessible Markets
SpreadEx allows the trading of over 15,000 trading instruments including 51 Foreign Currency Exchange Pairs. In addition to this, Commodity CFDs such as Metals, Energies, and Agricultural and the Index and Stock CFDs markets UK Shares, US Shares, German Shares, and Japanese Shares can also be accessed through the firm's services.
The review team had noted that SpreadEx's Stocks offerings are of the highest number compared to major industry players.  
Available Trading Accounts
As of writing, SpreadEx only offers two types of account:
The Demo Account
As probably already obvious, the Demo Account is used by traders wanting to just try out trading without having to gamble on their hard-earned money. 
Clients who had availed of such accounts are given digital funds that they can use for simulated trades.
Standard Account
Opening a Standard Account only requires traders to deposit a minimum of $1, undeniably cheaper compared to what other brokerages require. Through this amount, the trader is already allowed access to all the trading instruments the firm gives access to.
While the SpreadEx's offering of only two accounts might appear too limited, the minimum deposit only requiring a dollar as a starting amount, might also be seen as permissive of more concentrated trades.
However, the review team recommends the inclusion of more specialized trading platforms as SpreadEX specializes in betting.
Opening an Account
The review team had noted that the firm's compliance checks are set in place thus allowing for more stringent requirements to bar fraudulent entities from penetrating the system. 
The following steps and requirements required to open an account with SpreadEx:
A scanned and colored copy of the applicant's passport, driving license, or national ID

A utility bill or bank statement that dates back to the past three months detailing the holder's complete address

Answering a number of compliance questions about the applicant's trading experience.
Offered Trading Platforms
SpreadEx offers its own custom trading platform. This platform may be directly downloaded as a mobile application or accessed through WebTrader, its web browser counterpart. The SpreadEx application is available for both Android and iOS. It is completely customizable, speedy, and has an easy-to-navigate user interface. 
Trade with Spreadex Today!
Trading with SpreadEx, while found to still be wanting in certain aspects, is seen as a viable trading option. It is decent and has the potential of making profitable trades. The following is true regarding SpreadEx's services:
It is regulated by Financial Conduct Authority (FCA),  a trusted financial regulator

Its proprietary platform is reliable

The firm has a wide range of trading instruments that traders can choose from
The review team only recommends that the firm raises their services to include more offers. As it been in the industry for 21 years, it can definitely do so.