Feb06
Investment Banking: Valuation, Leveraged Buyouts, and Mergers and Acquisitions BY JOSHUA ROSENBAUM & JOSHUA PEARL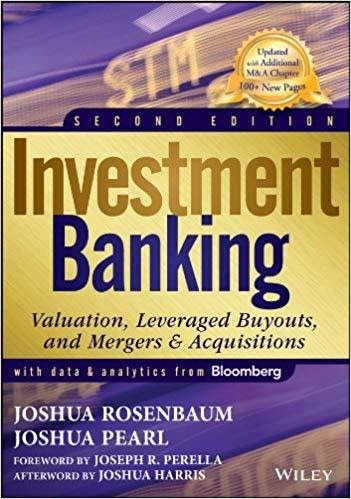 About the book
In the fast-paced world of finance, finding a solid foundation is a must. Contradictorily, it is rare to find an organized guide to the corporate financier's work, which is valuation. This can be attributed to the fast-paced nature of the financial industry. This is why authors Joshua Rosenbaum and Joshua Pearl wrote Investment Banking: Valuation, Leveraged Buyouts, and Mergers and Acquisitions.
This second edition of the book, which was originally published in 2013, is an authoritative, step-by-step guide to primary valuation methodologies that are currently used by Wall Street companies. It focuses on these methodologies that are used to determine valuation for both private and public companies. Due to the step-by-step approach to the discussion of methodologies, the authors have, in turn, created a knowledge base of key terms, financial concepts, and processes. This is your comprehensive guide to corporate finance in its most accessible form.
Review
This is an accessible and precise guide to valuation. It presents an analysis of financial data and cites reliable sources. This book is recommended for the new generation of professionals trying to make their way into Wall Street. The experience of Rosenbaum and Pearl combined present a comprehensive guide to key concepts in valuation. This book is among the ideal financial guidebook globally.
About the authors
Joshua Rosenbaum is a Managing Director and Co-Head of the Industrials & Diversified Services Group at RBC Capital Markets. He previously worked at UBS Investment Bank and the International Finance Corporation. Rosenbaum currently structures, advises and originates M&A, corporate finance, and capital markets transactions.
Joshua Pearl is a Managing Director at Brahman Capital, which is a long/short equity asset manager. He previously worked as Director at UBS Investment Bank, where he structured leveraged buyouts and high yield financings. He currently concentrates on public equity investments and special situations that use a fundamentals-based approach.