XtreamForex is an ECN broker providing services under Xtream Markets Ltd. Its headquarters are in the Marshall Islands, providing services in foreign exchange, cryptocurrency, stock, commodities, and indices trading. Its mission is to become the leading forex brokerage firm in the world. XtreamForex is starting to achieve this by providing unparalleled trading conditions for clients to experience a quality experience.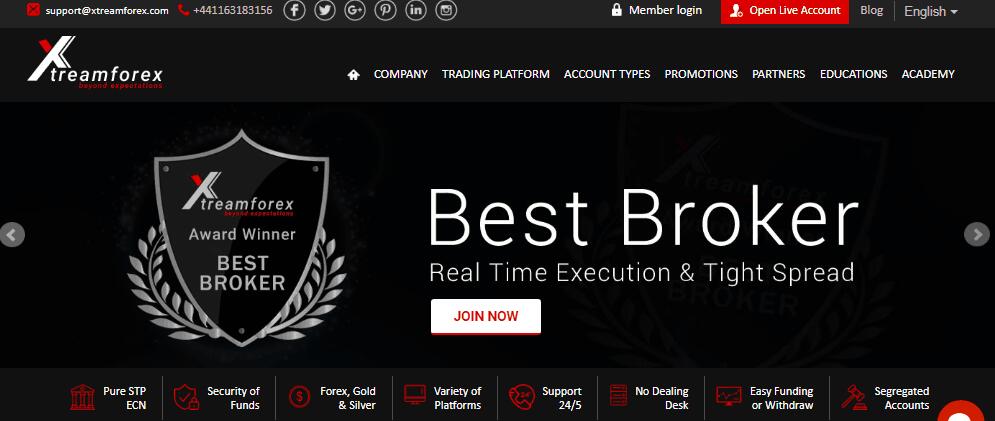 XtreamForex Regulation and Security
According to the official website of XtreamForex, this broker is licensed to operate and "regulated" in the Marshall Islands. However, it isn't clearly stated which independent or government authority regulates it. But since brokers normally state which authorities regulate them, there is a higher chance that XtreamForex is not regulated by any at all.
An unregulated broker exposes clients to more and bigger risks than a regulated one. For starters, regulated brokers abide by strict rules and guidelines, and refusing to comply with regulatory authorities may result in sanctions. Regulatory papers usually ensure clients of a reputable and trustworthy broker. On the other hand, unregulated brokers do not follow strict rules and oftentimes operate in jurisdictions with loose regulations. While many traders are beginning to embrace trading with offshore companies, there are still far more significant risks to it than trading with a regulated one.
 XtreamForex Account Types
XtreamForex offers five main account types: Micro, Standard, ECN, ECN Pro, and VIP. Other than that, it also offers an Islamic account for traders of the Muslim faith. Below are the specifications for each account type.
Micro Account
This account requires a minimum deposit of only $5, hence its name. Spreads begin at 1 pip with a leverage of 1:1000. The margin call level is 50% without any commissions charged. The maximum number of open orders is 250. The Micro Account is also available in Islamic.
Standard Account
The minimum deposit for the Standard Account is $250 with a maximum leverage of 1:400. The margin call level is 60% and the stop out level is 30%. This account does not charge commissions like the Micro Account and is also available in Islamic. The maximum open orders for the Standard Account is 500.
ECN Account
The ECN or Electronic Communication Network Account requires a minimum deposit of $250. The stop out level is 30% and the margin call level is 60%. commissions are $7 per lot. Spreads begin at 0 pip and the leverage is 1:400. An Islamic alternative is also offered for the ECN Account. The maximum number of open orders available is 500.
ECN Pro Account
This account is a slightly better version of the ECN Account, with only $5 commissions per lot and unlimited open orders. However, it is also a pricier counterpart with a minimum deposit of $5,000. Spreads also begin at 0 pip but the leverage is 1:200 maximum. For this account, no Islamic alternative is available. 
VIP Account
The VIP Account is recommendable for traders on the wealthier side, with the required deposit beginning at $20,000. This account provides unlimited open orders and trade volume. The leverage is 1:200 and spreads begin at 0 pip. Commissions are charged $1 per lot with a margin call level of 60% and a stop out level of 30%. No Islamic alternate is available for the VIP Account.

XtreamForex Trading Platforms
XtreamForex offers both MetaTrader4 and MetaTrader5 platforms to its clients, which are available in desktop, iOS, and Android. Only MT5 is available on the web platform. Both platforms are widely known and are used by traders worldwide. 
The MT4 is recommendable for foreign exchange and CFDs trading, while the MT5 is a multi-asset platform used for both centralized and non-centralized markets such as stocks and futures. While MT4 is a classic choice for many traders, since it was one of the first platforms to be used in the mainstream market, its successor, the MT5 is known to be faster and more efficient. Since the latter is already a multi-asset platform, this gives investors the ability to trade in all the financial markets, including cryptocurrencies. Still, both have high levels of functionality and intuitive designs, making them favorites of traders worldwide. 
 XtreamForex Educational Materials and Tools
XtreamForex offers basic research and educational tools that are most used by traders each day. This includes an Economic Calendar, daily market news, trading calculators, trading articles, and e-courses on foreign exchange. The first three are used by traders each day, since daily news keep them abreast of the latest market updates, the Economic Calendar lets them check the minute-by-minute changes in the price movements, and the trading calculators aid them in solving pip values, margins, etc. 
The other educational materials, which are trading articles and e-courses on forex, are accessible and beneficial any day. These materials are recommendable for beginning traders to help them understand how the market works. E-courses inform them of the different aspects of trading, while the articles focus on providing guidelines into using trading strategies. All of these are beneficial to all traders, even if they are already professionals. 
XtreamForex Final Review
XtreamForex offers quality services, which is seen in its multiple account types and the integration of MT4 and MT5 as platforms. The account types are well-detailed and gives traders a variety of options to see which fits their styles best. Basic research and educational tools are also provided, which is expected in a reputable forex broker. 
However, XtreamForex falls short in terms of security measures, leaving many clients and reviewers disappointed with the lack of regulatory compliance. This broker does not state whether it is regulated by any independent body and this is something that must be of concern for potential clients. Even if several investors are now beginning to embrace trading with offshore brokers, there are still multiple risks into it. These risks must be considered before trading with any broker.