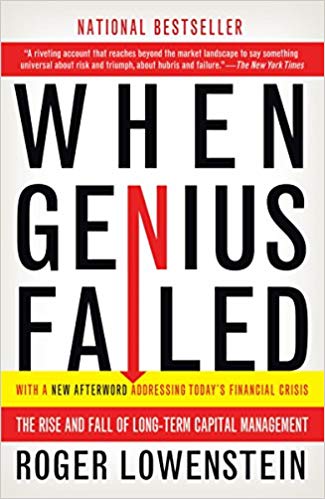 Review When Genius Failed: The Rise and Fall of Long-Term Capital Management
by ROGER LOWENSTEIN
Description
When Genius Failed puts up a moving discussion about the latest developments in the field of finance, with a deep focus on the recent financial crisis, the author narrates and commemorates the glory days and downfall of Long-Term Capital Management, one of the greatest hedge funds in the history of finance.
Initially established back in 1993, Long-Term was deemed as the most powerful hedge fund ever founded. Following its consecutive years of success and after temporarily making Wall Street a financial giant, it suddenly faced its sharpest fall that threatened not only the largest banks in Wall Street but also the whole financial system itself. This colossal setback serves as a powerful reminder of the mishap that the financial landscape faced, which years after, was narrated through the lens of Roger Lowenstein. In his updated afterword, Lowenstein deeply emphasizes one theme: that the rise and fall of Long-Term Capital Management did not occur as by nature's happenstance and that Wall Street, together with the government, must never dismiss the potential of recurrence. If there's any good this may serve, it's that they fall of LTCM must be taken as a template for a market crisis when facing decline.
This book is riveting that much of what had transpired during the existence of the said hedge fund was delivered in a thorough and expository manner. The author presents confidential inbound memorandum and interviews with key players only to highlight how the fund conjured into becoming and how it met its downfall. Throughout the narration, the emphasis was given to focal matters, including the personalities of Long-Term's associates, the arrogance and pride derived from their mathematical certainties, and how Wall Street took part in both its success and failure.
About the Author
Roger Lowenstein is an American financial journalist and author. He had his bachelor's degree at Cornell University in which after, he served for the Wall Street Journal for more than ten years. During his tenure, he managed to also write opinion/editorial, Head on the Street from 1989 to 1991.
Table of Contents
Title Page
Copyright
Epigraph
Author's Note and Acknowledgments
Introduction
THE RISE OF LONG-TERM CAPITAL MANAGEMENT
Chapter 1- Meriwether
Chapter 2- Hedge Fund
Chapter 3- On the Run
Chapter 4- Dear Investors
Chapter 5- Tug-of-War
Chapter 6- A Nobel Prize
THE FALL OF LONG-TERM CAPITAL MANAGEMENT
Chapter 7- Bank of Volatility
Chapter 8- The Fall
Chapter 9- The Human Factor
Chapter 10- At the End
Epilogue
Afterword, 2010
Dedication
Notes
Also by Robert Lowenstein
About the Author