Trade360 is the trading brand of Crowd Tech LTD, a brokerage firm in Cyprus that was founded in 2013. The brand name comes from the broker's vision to provide well-rounded trading experience and services to their clients, hence Trade360. This broker's forte is social trading, which makes it an appealing option for young and less-experienced investors.
Note: Trade360 does not have an official website.
Trade360 Regulation and Security
Trade360 is licensed and regulated by the Cyprus Securities and Exchange Commission. To gain license to operate in Europe, the broker has also registered with the Financial Conduct Authority or FCA. These licenses expand Trade360's scope of services. 
Trade360 is also registered under the Investor Compensation Fund, which insures all of their clients' funds for 20,000 euros each. This is to protect each client from any form of fraudulence. Each client's account is also segregated from Trade360's corporate funds, so as to prevent any financial misuse.
Trade360 Platforms and Tools
Trade360 offers their own platform as well as MT5 on their website. However, the access to both platforms may depend on the account type chosen by the client.
MT5 – this platform was developed to equip traders with the right functionalities to trade in other markets, aside from forex. With the MT5 platform, the client is able to trade cryptocurrencies, stocks, shares, indices, commodities, and others. Its functionality was designed specifically to complement the MT4 platform.
Trade360 platform – this is a web platform that offers great functionality and features. It is trader-oriented so the platform prioritizes tools that each client can use to their own style and preferences. The Trade360 platform is also in mobile version.
Trade360 Account Types
Trade360 offers five types of accounts: Mini, Standard, Platinum, Gold, and Diamond. Other than these five, the broker also offers the Islamic Account, which is specifically made for Muslim traders who want to practice trading under the Shariah Law. The minimum deposit for the Islamic Account is $10000.
Mini – this account type requires $500 as a minimum deposit, considerably the cheapest of five accounts. The client is eligible for viewing Live CrowdTrading Feed and 24/5 chat support. 
Standard 360 – this second account requires a minimum deposit of $1000. The added advantage of trading with this account is that the client can access MT5.
Gold – the gold account requires $5000 for the initial deposit. With this account, clients can receive SMS notifications and real-time market updates.
Platinum – this fourth account type offers similar trading perks as the Gold account. The only difference is that the platinum requires $10000 for initial deposit.
Diamond – this fifth and final account requires an initial deposit of $50000 and offers similar features and advantages as the two accounts before it.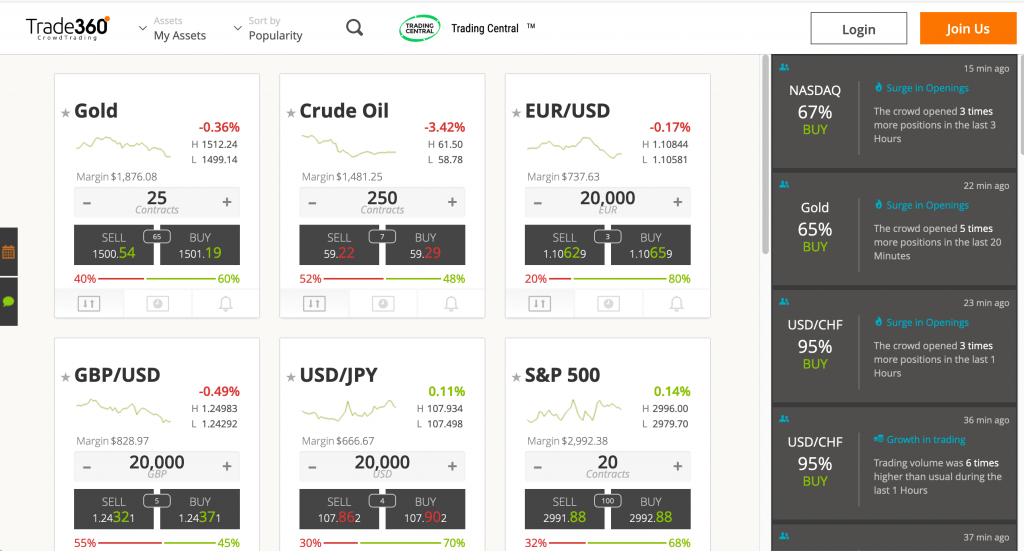 Trade360 Research Materials
When it comes to research and educational materials, Trade360 has dedicated a main category solely for this aspect. The data and information in this category are updated each trading day, especially with market news and analytics. Research data on Trade360 are provided by Trading Central. This broker has fairly competent materials on research, but it is not enough.
Despite the various trading charts and trading ideas presented by Trade360, there is no in-house research. Traders are generally left to themselves to organize their own trading techniques and strategies. Sometimes, these traders rely on their peers. Trade360 hardly offers substantial information on trading strategies and such.
H2 – Trade360 Final Review
One of the first things to point out about Trade360 is that this broker does not have an official website where clients and potential traders can look into its offered services. An official website could also be a way to gather research and educational materials in one place as it provides easy access to the public. However, in all the years that Trade360 has been providing services, they failed in this aspect.
One of the good things about Trade360 is that clients are assured of their security. Funds are segregated and insured in case a cyber attack happens and to prevent the broker itself from misusing the funds of the clients. Trade360 also acquired good licenses from respected regulatory bodies, which means that all their operations are under strict guidance and monitoring. 
This broker offers a competent range of account types, and the addition of the Islamic account adds to better services to a diverse range of clients. They also provide competitive features, especially a fully functioning customer support team. Overall, Trade360 is highly accessible to a wide range of clients.