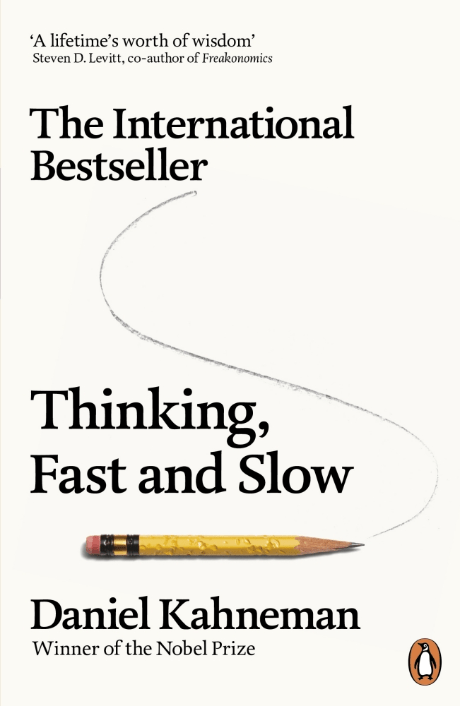 Review Thinking, Fast and Slow
by DANIEL KAHNEMAN
Description
Internationally acclaimed book, Thinking, Fast and Slow is a certified best-seller and multi-awarded book since its publication in 2011. It was hailed as one of "The Wall Street Journal's Best Nonfiction Books of the Year 2011", also one of "The Economist's 2011 Books of the Year", a "Globe and Mail Best Books of the Year 2011", New York Times Book Review's one of the ten best books of 2011, and winner of the National Academy of Sciences Best Book Award in 2012.
Needless to say, the accolades of the book speak volumes to its soundness and significance as a material in the finance sector. Primarily, the book proposes a notion that there are two systems that drive the way people think: the Fast and the Slow. As Daniel Kahneman discusses his theory, he supplements it with practical wisdom to be applied in real-world scenarios.
About the Author
Daniel Kahneman is a professor of Psychology Emeritus at Princeton University. He is a recipient of the 2002 Nobel Prize in Economic Sciences for his contribution to decision-making.
Table of Contents
Kahneman's masterpiece is carefully laden and plotted with the following contents:
Part I: Two Systems
The Characters of the Story
Attention and Effort
The Lazy Controller
The Associative Machine
Cognitive Ease
Norms, Surprises, and Causes
A Machine for Jumping to Conclusions
How Judgments Happen
Answering an Easier Question
Part II: Heuristics and Biases
The Law of Small Numbers
Anchors
The Science of Availability
Availability, Emotion, and Risk
Tom W'S Specialty
Linda: Less is More
Causes Trump Statistics
Regression to the Mean
Taming Intuitive Predictions
Part III: Overconfidence
The Illusion of Understanding
The Illusion of Validity
Institutions Vs. Formulas
Expert Intuition: When Can We Trust It?
The Outside View
The Engine of Capitalism
Part IV: Choices
Bernoulli's Errors
Prospect Theory
The Endowment Effect
Bad Events
The Fourfold Pattern
Rare events
Risk Policies
Keeping Score
Reversals
Frames and Reality
Part V: Two Selves
Two Selves
Life as a Story
Experienced Well-being
Thinking About Life