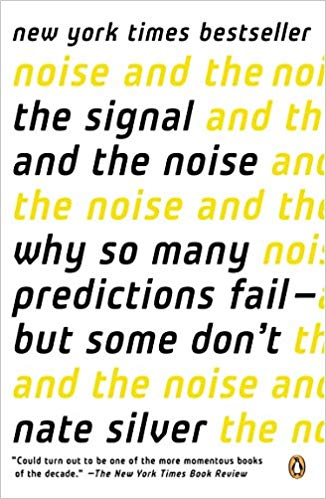 Review The Signal and the Noise: Why So Many Predictions Fail – but Some Don't
by NATE SILVER
Description
Nate Silver developed a revolutionary system that allowed him to predict baseball games accurately, forecasted the 2008 electoral poll with great precision, and became a critically-acclaimed blogger. He secured his name in the industry as the leading political and financial forecaster after he nearly predicted the 2012 poll.
From the aforementioned narrative, Silver delves deeper into the prediction practices closely studying on how to gather the most ideal and substantial signals from a crowd of random data. As many of us have inadequate knowledge when it comes to probability and certainty, the majority of forecast and predictions fail, negatively impacting society. This is a case true to everyone as both advanced professionals and laypeople often resort to confident forecasts instead of picking the credible ones. This sets an important note- that overconfidence heavily contributes to failure. Thus, we must overcome our sense of ambiguity to forward better predictions. Such is called prediction paradox and the more we appreciate our intuition, the more successful we can be in decision-making.
With his pursuit of arriving at higher truth and to separate such from noises, the author analyzed renowned forecasters in different fields, including those who predict hurricanes, games, gambling, and stock markets. He dug deeper into the psychology and identifies what commonality they share. More so, this book focuses on how these forecasters succeeded by debunking their methods, theories, patterns, and practices. Exploring deeply, he arrived at the conclusion that the majority of these forecasters share common behavior. Through humility and hard work, they are able to predict accurate results, all while focusing intently on tiny details that drive one closer to the truth. Mainly from this ability, they have a clearer version of reality.
About the Author
Nate Silver established the site FiveThirtyEight.com and is currently spearheading the operations and publication as the editor-in-chief of the said blog.
Table of Contents
Preface to the Paperback Edition
Introduction
Chapter 1: A Catastrophic Failure of Prediction
Chapter 2: Are You Smarter Than a Television Pundit
Chapter 3: All I Care About Is W's and I's
Chapter 4: For Years You've Been Telling Us That Rain Is Green
Chapter 5: Desperately Seeking Signal
Chapter 6: How to Drown in Three Feet of water
Chapter 7: Role Models
Chapter 8: Less and Less and Less Wrong
Chapter 9: Rage Against the Machines
Chapter 10: The Poker Bubble
Chapter 11: If You Can't Beat'Em
Chapter 12: A Climate of Healthy Skepticism
Chapter 13: What You Don't Know Can Hurt You
Conclusion
Acknowledgments
Notes
Index