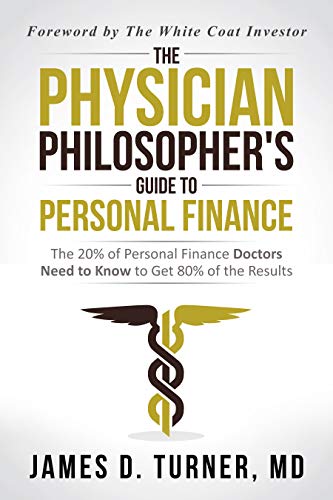 Review The Physician Philosopher's Guide to Personal Finance
by JAMES D. TURNER
Description
In the field of medical training, individuals are dedicated to developing their medicine-related skills through education and application of the most viable medicine and solutions for patients. However, this kind of endeavor is not free, and most practitioners can all collectively agree that this undertaking is expensive. As this is the case, medical students often face the burden of carrying much debt due to pursuing this kind of career. Thus, they must be equipped with an adequate amount of financial knowledge to maneuver through complex methods of personal finance and money management.
Just when an individual is very much ready to learn about student loans, proper investments, and keys to financial freedom, then this book will do so much good. Included within its narrative are basics of investing, specifics of investing, managing student loans, asset security, and paying off debt.
Though lacking in the financial background and restricted by time, an individual may still acquire enough financial techniques and strategies using this short primer, The Physician Philosopher's Guide to Personal Finance. Through this guide, one may freely allocate time for patients instead of worrying about personal finance. This will also maximize one's efficiency in the field of medicine, all while enjoying the perks that come along with good money management.
About the Author
James D. Turner MD voiced out financial and medical sentiments through his book, The Physician Philosopher's Guide to Personal Finance. He is known as an author, inventor, and financial/medical blogger at the site called The Physician Philosopher.
Table of Contents
Acknowledgments
Table of Contents
Foreword
Chapter I: Introduction
Chapter II: Personal Finance Basics
Chapter III: Conflicts of Interest
Chapter IV: Financial Choices in Medical School
Chapter V: The Pareto Principle for Residency
Chapter VI: Student Loan Debt Management Part I: Income-driven Repayment and Public Service Loan Forgiveness Programs
Chapter VII: Student Loan Debt Management Part II: Private Student Loan Refinancing Options
Chapter VIII: Personal Finance During Residency
Chapter IX: Live Like a Resident (AFTER Residency)
Chapter X: A Tale of Two Doctors
Chapter XI: Investing After Residency
Chapter XII: How Much Do I Need?
Chapter XIII: Asset Protection
Chapter XIV: The Balance