Feb27
The Most Important Thing: Uncommon Sense for the Thoughtful Investor (Columbia Business School Publishing) BY HOWARD MARKS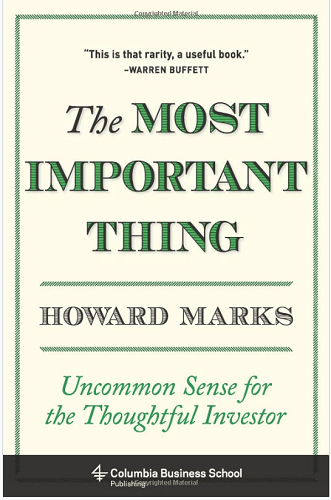 About the book
In this book, renowned finance figure Howard Marks takes years of experience and knowledge into a single book that caters both amateur and expert investors. He discusses the factors that make an investment successful and the mistakes that can destroy it. He uses client memos to express his ideas and philosophies the matter. He discusses about how an investment philosophy materializes through full acknowledgment of its complexities and dangers. In this book, Marks' brilliance in matters of finance and investment is undeniable.
Review
Marks is a genius when it comes to value investing, which is proven by his high status in the financial industry. In this book, he shares financial insights that he garnered through years of working in the field. However, the book reads dry and repetitive. The book includes many financial concepts that were not properly defined, and the book drowns in technical terms, which makes it sound very repetitive.
It is undeniable that Marks is an expert in value investing, however, the book also lacks the shift from theory to practice. It seems like Marks does not share enough about how he puts his philosophies into real-world applications. The book could have focused more on the application itself to make it a more practical read. However, the book is still a recommendable finance book as it presents many insights about the industry.
About the Author
HOWARD MARKS is the cofounder of Oaktree Capital Management, where he currently sits as chairman. He graduated from the Wharton School with a Bachelor's Degree in Finance. He received his MBA in Accounting and Marketing from the University of Chicago.
Table of Contents
Introduction
THE MOST IMPORTANT THING IS…
Second-Level Thinking
Understanding Market Efficiency (and Its Limitations)
Value
The Relationship Between Price and Value
Understanding Risk
Recognizing Risk
Controlling Risk
Being Attentive to Cycles
Awareness of the Pendulum
Combating Negative Influences
Contrarianism
Finding Bargains
Patient Opportunism
Knowing What You Don't Know
Having a Sense for Where We Stand
Appreciating the Role of Luck
Investing Defensively
Avoiding Pitfalls
Adding Value
Pulling It All Together