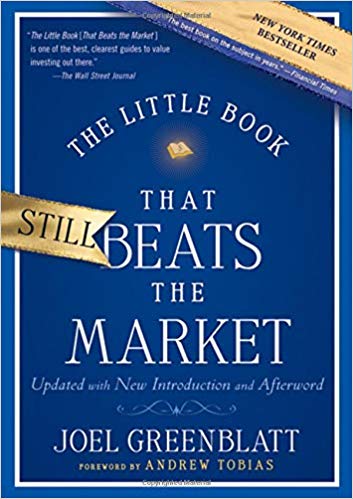 Review The Little Book That Still Beats the Market
by JOEL GREENBLATT
Description
The Little Book That Still Beats the Market still stands as one of the most laudable contributions to financial literacy. Highly regarded and treated as a revolutionary guide, this book exposes that investors have the power to outperform popular markets through a simple strategy. The formula identifies a viable business at a marginally lower price.
Now with new developments and revision, The Little Book that Beats the Market stretches discussion and elaborates research-based insights from the original copy. Records and pertinent data about the recent financial decline were presented to enforce learning about what constitutes a successful stock investment. Through a straightforward and simple narrative, the book delves deeper into fundamental principles of the field and put up a hands-on lecture about the author's time-tested and lasting formula.
One may see this as a daunting lecture as it is purely technical and had undergone extensive examination. Still, the simple delivery and concise narrative made all lessons appealing and comprehensible for wide audiences. The author, with his winning method, is effective enough in carrying out a lesson on how to defeat the market and other market professionals fully. In line with this, his methodology is time-tested that no matter how many people apply this, it will still render the most advantageous results.
True to its sense, the formula is easy to apply. However, the author advised that deeper understanding and discernment of the formula are required in order to ace financial markets truly. Meticulous discussion enables one to acquire knowledge on important principles of value investing, and how strategies flexibly appeal to shifting market status, whether negative or positive.
About the Author
Joel Greenblatt founded Gotham Capital, to which he also acts as a managing associate of the firm. Presently, he works as a professor at Columbia Business School. Before pursuing such, he initially worked as a chairman of the board for Fortune 500. He is also one of the people who established the Value Investors Club website.
Table of Contents
Title Page
Copyright Page
Dedication
Acknowledgments
Foreword
Introduction
Introduction to the Original Edition
Chapter One
Chapter Two
Chapter Three
Chapter Four
Chapter Five
Chapter Six
Chapter Seven
Chapter Eight
Chapter Nine
Chapter Ten
Chapter Eleven
Chapter Twelve
Chapter Thirteen
Step-by-Step Instructions
Afterword to the 2010 Edition
Appendix