Feb18
The International Handbook of Shipping Finance: Theory and Practice BY MANOLIS G. KAVUSSANOS & ILIAS D. VISVIKIS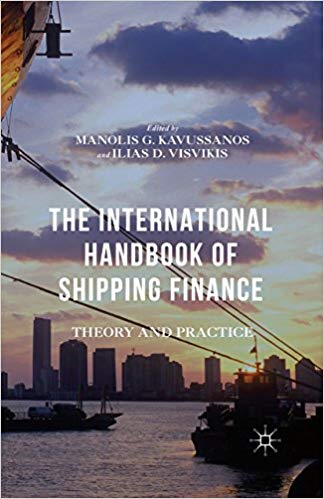 About the book
The International Handbook of Shipping Finance: Theory and Practice is a reference book on shipping finance regarding theory and practice. The book delves into various topics on shipping finance and even provides alternative sources of capital, such as budgeting, appraisal, legal, and insurance.
This book combines the contributions of twenty-five market practitioners and edited by Manolis Kavussanos and Ilias Visvikis. Aside from shipping finance, it also encompasses maritime financial management and investments. It includes asset-backed finance, debt finance, shipping markets, structured finance, shipbuilding finance, marine insurance, legal aspects and key clauses of ship mortgages, and more.
Review
This book has twenty-five contributors sharing their knowledge and material about shipping finance in the most understandable way possible. It offers a comprehensive discussion of the various aspects of modern shipping finance and maritime financial management and investments. It also delves into capital requirements and needs, and provides a clearer look on different financial management strategies through examples and applications. It is heavy on technical terms but very grounded on the reality of the market. It is a recommendable book for anyone interested in shipping finance, regardless of profession.
About the author
Manolis G. Kavussanos is a Professor and Director of the MSc program in International Shipping, Finance, and Management at the Athens University of Economics and Business.
Ilias D. Visvikis is Professor of Shipping Finance and Risk Management, and Director of Executive Education and Professional Development at World Maritime University.
Table of contents
Preface by Editors
Chapter 1: Shipping Markets and their Economic Drivers
Chapter 2: Asset Risk Assessment, Analysis and Forecasting in Asset Backed Finance
Chapter 3: Overview of Ship Finance
Chapter 4: Shipbuilding Finance
Chapter 5: Debt Financing in Shipping
Chapter 6: Public Debt Markets for Shipping
Chapter 7: Public and Private Equity Markets
Chapter 8: Structured Finance in Shipping
Chapter 9: Key Clauses of a Shipping Loan Agreement
Chapter 10: Legal Aspects of Ship Mortgages
Chapter 11: Reasons and Mechanics of Handling Defaulted Shipping Loans and Methods of Recovery
Chapter 12: Marine Insurance
Chapter 13: Maritime Investment Appraisal and Budgeting
Chapter 14: Financial Analysis and Modelling of Ship Investments
Chapter 15: Maritime Business Risk Management
Chapter 16: Mergers and Acquisitions in Shipping