Mar05
The Daily Trading Coach: 101 Lessons for Becoming Your Own Trading Psychologist BY BRETT N. STEENBARGER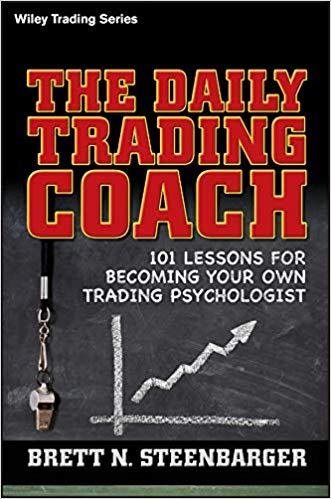 About the book
Brett Steenbarger discusses how a trader can make use of his assets and maximize it in trading. He recounts how some personal and monetary assets might not have been realized by the trader, which can be used to better a trading career.
Steenbarger addresses each problem a trader might encounter in trading and discusses how it can be solved. He begins with identifying the problem, choosing an approach, and finding the solutions to it. These are all written in a conversational tone, like a personal consultation to a trading expert.
Review
Steenbarger uses his background in trading and psychology to write a book that helps readers identify the right trading decisions and the right mentality to begin trading. He shows readers how self-observation can help traders identify the right approach by observing their approach first.
The book is more than a finance guide that concentrates on trading because it also delves into the psychology of a trader. It is more of a self-help book, because not only does it educate readers about trading—it also tells readers to look into themselves and how they approach trading.
About the Author
BRETT N. STEENBARGER is an Associate Professor of Psychiatry and Behavioral Sciences at SUNY Upstate Medical University in Syracuse, New York. He graduated from Duke University and received his Ph.D. in clinical psychology from the University of Kansas.
Table of Contents
Preface
Acknowledgments
Introduction
CHAPTER 1 Change: The Process and the Practice
CHAPTER 2 Stress and Distress: Creative Coping for Traders
CHAPTER 3 Psychological Well-Being: Enhancing Trading Experience
CHAPTER 4 Steps toward Self-Improvement: The Coaching Process
CHAPTER 5 Breaking Old Patterns: Psychodynamic Frameworks for Self-Coaching
CHAPTER 6 Remapping the Mind: Cognitive Approaches to Self-Coaching
CHAPTER 7 Learning New Action Patterns: Behavioral Approaches to Self-Coaching
CHAPTER 8 Coaching Your Trading Business
CHAPTER 9 Lessons from Trading Professionals: Resources and Perspectives on Self-Coaching
CHAPTER 10 Looking for the Edge: Finding Historical Patterns in Markets
CONCLUSION
Lesson 101: Find Your Path
For More on Self-Coaching
About the Author
Index