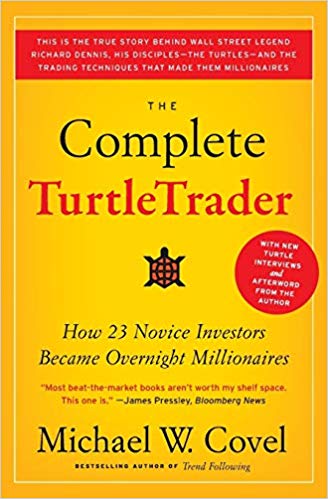 Review The Complete TurtleTrader: The Legend, the Lessons, the Results
by MICHAEL W. COVEL
Description
The Complete TurtleTrader is an investigative narrative creatively written by Michael Covel. This is an international best-selling book that features the story of Richard Dennis of Wall Street, along with his disciples, the Turtles. In this book, Covel revealed through a recount of Dennis' story and his trading techniques and strategies that led him to success and became multi-millionaire.
Covel goes on to describe how the protagonist, Dennis, chose and interviewed his students and introduced the Turtle system. Up to this day, the Turtle system remains to be one of the best and soundest guides for making the most out of one's money.
About the Author
Michael Covel is an entrepreneur and has authored five books about finance. His internationally renowned perspectives enabled him to speak in different forums held by international organizations. A total influencer, Covel, is an active blogger publishing his blogs regularly and records podcast weekly. His podcast is followed by an impressive 5 million listeners worldwide. He has clients in more than 70 countries scattered across the globe.
Table of Contents
The book is presented in fourteen chapters with each chapter covering the following contents:
Epigraph
Preface
Acknowledgments
Chapter 1 Nurture versus Nature
Chapter 2 Prince of the Pit
Chapter 3 The Turtles
Chapter 4 The Philosophy
Chapter 5 The Rules
Chapter 6 In the Womb
Chapter 7 Who Got What to Trade
Chapter 8 Game Over
Chapter 9 Out on Their Own
Chapter 10 Dennis Comes Back to the Game
Chapter 11 Seizing Opportunity
Chapter 12 Failure is a Choice
Chapter 13 Second-Generation Turtles
Chapter 14 Model Greatness
Appendix I
Appendix II
Appendix III
Appendix IV
Endnotes
Index
About the Author
Other Books by Michael W. Covel
Credits
Cover
Copyright
About the Publisher