Feb27
The Business of Venture Capital: Insights from Leading Practitioners on the Art of Raising a Fund, Deal Structuring, Value Creation, and Exit Strategies (Wiley Finance) 2nd Edition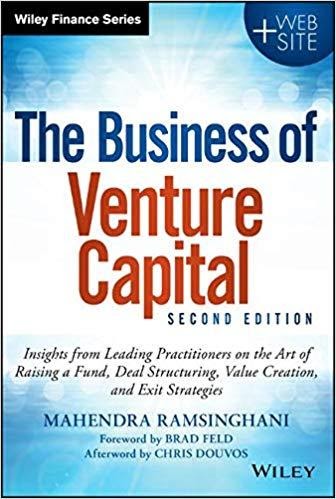 Description
The raising of funds and the structuring of investments are discussed at length in this definitive guide to venture Capital, aptly titled, "The Business of Venture Capital: Insights from Leading Practitioners on the Art of Raising a Fund, Deal Structuring, Value Creation, and Exit Strategies."
The book is an impressive work of depth without having to alienate its readers with highfaluting words and jargon. Here, logic and wisdom are balanced out to create a corpus worthy of the attention of even a layman.
The book wears a badge of credibility in that it Mark Heesen, President of the National Venture Capital Association (NVCA), wrote the foreword for it. On top of that, the author, Mahendra Ramsinghani, took the opinion of leaders and leading experts in the industry.
The book covers the following topics:
The process of raising the venture fund (includes the identification and assessment of Limited Partnership)
Due-diligence in funding
Terms in fund investment
The investment process
Insights, short narratives, and wisdom from experienced practitioners
Interviews conducted by Leading Limited Partners
Fund-of-Funds with Credit Suisse
Reader reviews agree that the book, "The Business of Venture Capital" is a work that every businessman, trader, and an investor should have in their library. They deem it as valuable, insightful, and altogether purposeful.
About the Author
Mr. Mahendra Ramsinghani holds a Bachelor's degree in Electronics Engineering and an MBA, majoring in Marketing and Finance. He has served his disciplines well by investing in what is called, fifty "pre-seed" and "seed" stage companies. He founded a cybersecurity seed fund based in the San Francisco Bay Area named Secure Octane. He also co-authored the book, "Startup Boards" another book on finance in 2014.
Table of Contents
Foreword
Preface
Acknowledgements
PART ONE: Raising the Venture Fund
Chapter 1: The Basics
Chapter 2: Getting In
Chapter 3: Building Your Career as a Venture Capitalist
Chapter 4: The Universe of Limited Partners
Chapter 5: How Limited Partners Conduct Fund Due Diligince
Chapter 6: Defining Your Fund's Investment Strategy
Chapter 7: How Institutional Investors Evaluate Fund Managers
Chapter 8: Fund Size and Portfolio Construction
Chapter 9: Performance Analysis
Chapter 10: Emerging Managers: A Promise of the Future
Chapter 11: The Venture Capital Firm, Operations, and Culture
Chapter 12: The Fund-Raising Process
Chapter 13: Terms of Investment: The Limited Partnership Agreement
Chapter 14: The Role of Placement Agents in Fund-Raising
PART TWO: Making Investments
Chapter 15: Sourcing Investment Opportunities
Chapter 16: The Art of Conducting Due Diligence
Chapter 17: Management Team Diligence
Chapter 18: Diligence beyond Management
Chapter 19: Structuring Investment Transactions
Chapter 20: Serving on the Board
Chapter 21: Board Culture, Composition, and Orientation
Chapter 22: Board Value Creation and Evaluation
Chapter 23: Challenges in the Boardroom
Chapter 24: Exit Strategies
Chapter 25: Acquisitions: The Primary Path to an Exit
Chapter 26: Initial Public Offering
Chapter 27: Human Psychology
Afterword
About the Author
About the Companion Web Site
Index