One of the most basic skills a trader must have is reading free candlestick charts. This is a part of technical analysis that must be learned if you want to trade successfully. If you do not know what is technical analysis, check out our previous article What is technical analysis Forex (Kenneth Park).
But today we shall talk about how to read candlestick charts.
The Structure of a Candlestick
Understanding candlestick charts is impossible without knowing what does their structure means. Three main parts are subdivided into several others.
The picture above represents the anatomy of a candlestick. You will regularly encounter such details, so remember their meanings.
The Upper Shadow.
The upper shadow includes a close, which is located at the top of a green and the bottom of a red candlestick.
The high is a thin line on top of a candlestick.
The body.
The body shows open and close prices for a specified period.
The Lower Shadow.
The lower shadow includes an open, which is located at the bottom of a green and the top of a red candlestick.
Another detail is low, which is shown as a thin line under the body of a candlestick.
How to Read Candlestick Charts?
Crypto candlestick charts work the same way the candlestick stock charts do. There are three main movement types for all of them.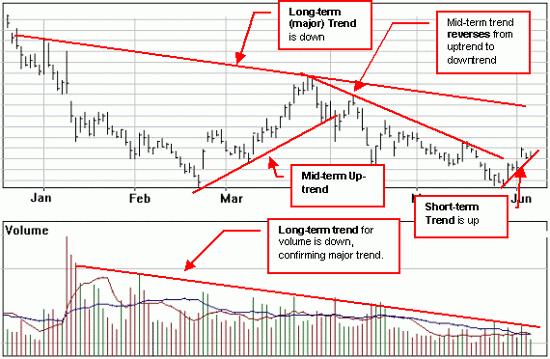 As you can see, there is the "main movement." It is a trend that lasts starting with less than a year and ending with several years without major changes. This can be both uptrends and downtrends.
After that, there is the so-called "medium swing." It has a much shorter period that lasts from 10 days to 3 months. Usually, the medium swing has changes in a range of 33-66% of the primary price change after a previous medium swing has ended or a new main movement has begun.
The last part is a short swing. It has a very short period starting with a couple of hours and ending with a month or two.All the movements described above can occur at the same time. To learn more about using candlestick analysis, pay attention to our previous article Candlestick analysis guide for beginners.