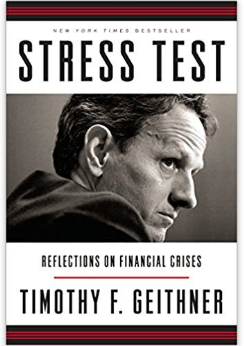 About the book
This memoir of author Timothy F. Geithner is a recollection of one of the worst financial crisis the United States has ever faced and his role in the rescue and recovery of the economy. Geithner takes the readers into a recalling of the crisis that turned into a broken financial system and how he and others kept the Main Street economy from collapsing.
This is a story about a small team of policymakers that dealt with political and financial systems in the rescue of the American economy—all the while losing the American people because of it. The Stress Test is a memoir and a guide to future American leaders on how to prevent another financial crisis from happening.
Review
This book shows the wit and knowledge of Timothy Geithner in the face of a financial adversary. It shows his well-valued experience in rescuing nations from financial recessions. The book reads like a novel, as the author takes the reader into a clear recollection of the events that took place a decade ago, with the right amount of information and not the least boring.
Geithner unravels the tentacles of politics gripping the economy, as well as the various nasty measures politicians make in times of crisis. This book shows Geithner's total understanding of the events that transpired in the 2007-2008 financial crisis and the political and economic measures done to rescue a nation from it.
About the Author
TIMOTHY F. GEITHNER served as the 75th secretary of the US Department of Treasury and chief executive officer of the Federal Reserve Bank of New York. He wrote Stress Test as a distinguished fellow at the Council on Foreign Relations.
Table of Contents
Introduction: The Bombs
ONE: An American Abroad
TWO: An Education in Crisis
THREE: Leaning Against the Wind
FOUR: Letting It Burn
FIVE: The Fall
SIX: "We're Going to Fix This"
SEVEN: Into the Fire
EIGHT: Plan Beats No Plan
NINE: Getting Better, Feeling Worse
TEN: The Fight for Reform
ELEVEN: Aftershocks
EPILOGUE: Reflections on Financial Crises
Tribute to the Crisis Team
Acknowledgments
Author's Note
Notes
Index