Renesource Capital is a Latvia-based investment brokerage company. It was founded in 1998 but only began offering trading services online in 2009. It has established itself as one of the leading firms in the Baltic region by offering currency and commodity risks hedging.
Renesource Capital Security and Licenses
Renesource Capital is authorized and regulated by the Financial and Capital Market Commission with license number 06.06.04.114/118.2. This broker participates in the securities markets with a focus on conducting investment brokerage services.
Renesource Capital has a network of counterparties that include top-tier banking institutions and investment brokerage firms that allow them direct access to first-rate information about the stock markets. This guarantees the best services possible for all of Renesource Capital's clients.
Furthermore, this broker is compliant with the European Union's directives on financial reporting. It follows strict rules and specific guidelines on working with clients. Also, to protect clients, Renesource Capital honors the Investor Protection Law, which insures 90% of client funds (but not exceeding 20,000 EUR) in cases of lost or damaged financial instruments caused by errors in services. In specific cases where this law is applicable, the service provider, or in this case Renesource Capital, is obliged to compensate the client for financial losses.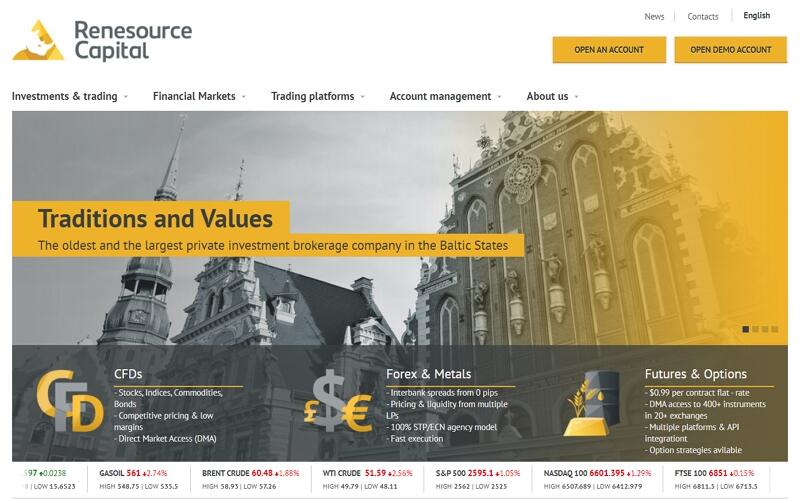 Renesource Capital Trading Platforms
Renesource Capital offers quite an extensive range of trading platforms, particularly because this broker offers direct access to the stock and commodity exchanges.
MetaTrader4
This platform is a classic, no doubt. It was developed by MetaQuotes specifically for foreign exchange trading. It is equipped with hundreds of tools, indicators, and strategies to help each trader make successful trades.
Integral
This platform had once been nominated as the best forex platform for its superb electronic trading features that give traders direct access to ECN Exchanges.
Currenex
Developed in 1999, this platform provides fast and secure access to the interbank currency markets. The main feature of this platform is data protection and total confidentiality in all financial transactions.
QUIK
This platform is a multifunctional information and trading terminal widely-used for securities trading on Russian exchanges.
J-Trader
Created by Patsystems, this platform is one of the most used trading systems for options and futures trading. This platform combines simplicity and functionality.
CQG
You can trade currencies, commodities, indexes, and bonds on this platform. It is powered by highly-secured connections that use SSL encryption.
Renesource Capital Trading Conditions
Renesource Capital participates in all of the financial markets and offers a wide range of services not limited to brokerage investments. Some of the extensions of these services include hedging and risk management, where Renesource Capital works to give their clients the opportunity to hedge financial instruments but at the same time remain cautious of the risks. Clearing, custody, and settlements are provided by Renesource Capital on many asset classes. These assets are also guaranteed to be kept safe in segregated accounts handled by top-tier banking institutions.
Renesource Capital also offers corporate finance and investment banking services. These include providing complex consulting and capital raising services to government and financial institutions. Lastly, this broker also provides broker-assisted trading services, where a trader is advised by a personal broker on the best ways to build, expand, or diversify his portfolio.
Renesource Capital Final Review
It is without a doubt that Renesource Capital has an extensive range of services. On top of that, it is well-respected in the industry for providing highly competitive and useful services that benefit its clients. It has tight security and follows adequate guidelines for all financial transactions, as mandated by the authorities that regulate it. This broker has well-detailed and diversified services that fit all its clients' needs, which are not only limited to brokerage services.
Its involvement in many financial markets while maintaining good standing among its peers, as well as the fact that it had earned positive reviews from clients and critics alike, guarantees that it is a safe and reliable broker. Clients benefit from this broker's direct market access and information to various exchanges that allow traders to see real-time market movement and prices. This is a display of transparency not often matched by other brokerage firms. For these reasons, Renesource Capital is a recommended broker to trade with for the long run.