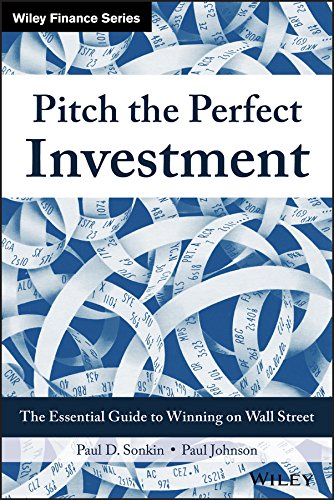 DESCRIPTION
An in-depth understanding of the company and their structures, together with knowledge on appropriate strategies is necessary to thrive in the intimidating world of Wall Street. However, success does not come easy and instant as most successful people have to start somewhere.
Training grounds provided for research analysts are often disregarded on Wall Street, which forces new analysts to hone their skills through uncertain and close to failure process of trial and error. To resolve this, Sonkin and Johnson developed a supplementary and comprehensive guide that will pamper one to become a successful professional investor.
One element that can help an individual ace the market is adequate knowledge. With proper knowledge, fear and anxiety are minimized, all while the possibility of larger profits is maximized. This is true since Wall Street is a tight environment, and only the fittest and most prepared make it big. This book employs a rapid knowledge acquisition for MBA students to develop skills and acquire knowledge crucial in the world of investment. Discussed in detail are effective pitching ideas and practices for a job interview, pitch competition, and for a student-organized investment fund.
Relatively, this is not only helpful for students, but its lessons also appeal to professional investors. This book challenges seasoned professionals to look differently at commonly used and applied concepts. Moreover, this book greatly helps chief investment officers and research directors with new instruments for a more accurate analytical research, communication development, and overall efficiency and effectiveness of the organization.
ABOUT THE AUTHOR
PAUL D. SONKIN- He co-authored the book Pitch the Perfect Investment. Presently, he is working as a co-portfolio manager at TETON Westwood Mighty Mites Fund. He has previous experience in portfolio management at GAMCO investors and Gabelli Funds. His credentials involved employment in Goldman Sachs & Co and the US Securities and Exchange Commission.
PAUL JOHNSON- He leads the operation of Nicusa Investment Advisors. With 30 years of experience in the field of finance, Johnson utilized his knowledge to work as an investment professional. In addition to this, he spent 20 years as a business school professor.
TABLE OF CONTENTS
Preface
Introduction
Part 1- The Perfect investment
Chapter 1- How to Value an Asset
Chapter 2- How to Value a Business
Chapter 3- How to Evaluate Competitive Advantage and Value Growth
Chapter 4- How to Think About a Security's Intrinsic Value
Chapter 5- How to Think About Market Efficiency
Chapter 6- How to Think About the Wisdom of Crowds
Chapter 7- How to Think About Behavioral Finance
Chapter 8- How to Add Value Through Research
Chapter 9- How to Assess Risk
Part 2- The Pitch Perfect
Chapter 10- How to Select a Security
Chapter 11- How to Organize the Content of the Message
Chapter 12- How to Deliver the Message
Acknowledgements
Art Acknowledgements
About the Authors
Index