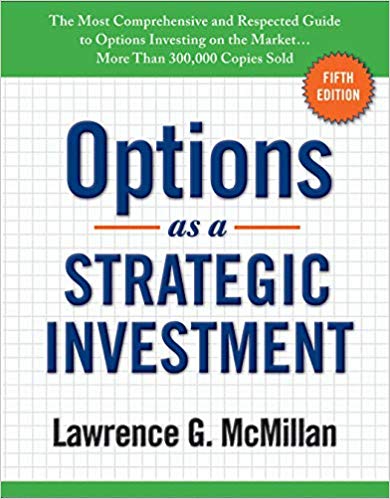 Review Options as a Strategic Investment
by LAWRENCE G. MCMILLAN
Description
Options and non-equity options markets are of great advantage since they render plenty of strategic opportunities. These opportunities are crucial for investors and traders in order to perform an appropriate intervention and approach for the overall management of an investment. As strategic investment is deemed an ideal venture, it is highly suggested that an individual develops a set of skills and strategies to ace this market.
Together with proper investment psychology and strategies, time-tested tools are also necessary. Using Options as a Strategic Investment, readers will be introduced to the latest developments and updated instruments meant to boost and maximize the profile. More so, these tools are conducive enough to mitigate and decrease the margin of risks regardless of the persisting market movement.
It provides instructions and how-tos for the following topic:
Short and long strategies ideal for Long Term Anticipation Securities
Rigorous analysis of neutral trading, its functions, and methodologies on how to improve readers' portfolio
A rundown and general view of futures and futures option
About the Author
LAWRENCE G. MCMILLAN is a seasoned trader and the founding father of McMillan Analysis Corporation. He published Options as a Strategic Investment, which later became a best-selling book heavily recognized as a crucial part of finance literature. He regularly graces segments on CNBC and Bloomberg TV.
Table of Contents
PART I- BASIC PROPERTIES OF STOCK OPTIONS
Definitions
PART II- CALL OPTION STRATEGIES
Covered Call Writing
Call Buying
Other Call Buying Strategies
Naked Call Writing
Ratio Call Writing
Bull Spreads
Bear Spreads Using Call Options
Calendar Spreads
The Butterfly Spread
Ratio Call Spreads
Combining Calendar and Ratio Spreads
Reverse Spreads
Diagonalizing a Spread
PART III- PUT OPTION STRATEGIES
Put Option Basics
Put Option Buying
Put Buying in Conjunction with Common Stock Ownership
Buying Puts in Conjunction with Call Purchases
The Sale of a Put
The Sale of a Straddle
Synthetic Stock Positions Created by Puts and Calls
Basic Put Spreads
Spreads Combining Calls and Puts
Ratio Spreads Using Puts
LEAPS
PART IV- ADDITIONAL CONSIDERATIONS
Buying Options and Treasury Bills
Arbitrage
Mathematical Applications
PART V- INDEX OPTIONS AND FUTURES
Introduction to Index Option Products and Futures
Stock Index Hedging Strategies
Index Spreading
Structured Products
Mathematical Considerations for Index Products
Futures and Futures Options
Futures Option Strategies for Futures Spreads
PART VI- MEASURING AND TRADING VOLATILITY
The Basics of Volatility Trading
How Volatility Affects Popular Strategies
The Distribution of Stock Prices
Volatility Trading Techniques
Advanced Concpets
Taxes
The Best Strategy?
POSTSCRIPT
APPENDIX A- STRATEGY SUMMARY
APPENDIX B- EQUIVALENT POSITIONS
APPENDIX C- FORMULAE
APPENDIX D-GRAPHS
APPENDIX E- QUALIFIED COVERED CALLS