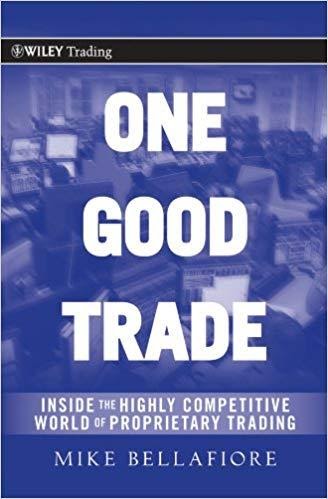 Description
Highly regarded as a timeless classic trading guide, author Mike Bellafiore's, "One Good Trade" tells his personal story of how he perceived the financial market as his book delves into the livelihood of how workers in the prop trading industry thought and how the job taxed heavily on their emotions and mental well-being. In "One Good Trade," he expounds on the challenges that prop trading has and how only a few who had mastered the art of trading would be handsomely rewarded in the end.
With this as the centerpiece, this is where Mike Bellafiore's "One Good Trade" outshines other trading books as he shares his experiences, principles, and techniques to the public – revealing how he had survived the markets (whether good or bad) for over a decade. In this book, Bellafiore provides a guide to its readers that becoming a better trader would require copious amounts of discipline and practice linked to a profitably sound strategy.
About the Author
Mike Bellafiore co-founded SMB Capital, a proprietary trading firm in New York City, and SMBU, its trader education company. He is the author of the trading classic, "One Good Trade" and "The PlayBook." He also co-authored a chapter for The StockTwits Edge, in which he discussed a favorite trading setup. Mr. Bellafiore also writes regularly for the globally popular SMBU blog, where he shares ideas on how to improve trading performance. Mike's trading techniques were noted in The Daily Trading Coach: 101 Lessons for Becoming Your Own Trading Psychologist, written by Dr. Steenbarger and has been recognized in The Inner Voice of Trading by Michael Martin. As an international lecturer, Mr. Bellafiore has built trader trading programs globally for hedge funds, prop trading desks, and retail traders, working with some of the world's largest traders.
SMB Capital's trader-training program was highlighted in the TV documentary Wall Street Warriors. His firm has appeared regularly on CNBC's Fast Money, CNNMoney, Bloomberg, and Fox Business.
Mike is a former college athlete and member of the University Of Connecticut Board Of Trustees. He lives with his wife and new son on the Upper West Side in NYC.
Table of Contents
Preface
Acknowledgements

PART I – Inside a Prop Trading Firm

CHAPTER 1: These Guys Are Good
CHAPTER 2: One Good Trade
CHAPTER 3: A Good Fit

PART II – Tools of Success

CHAPTER 4: Pyramid of Success
CHAPTER 5: Why Trader Fall
CHAPTER 6: Live to Play Another Day

PART III – Getting Technical

CHAPTER 7: Stocks In Play
CHAPTER 8: Reading the Tape
CHAPTER 9: Maximizing Your Profits with Scoring

PART IV – The Trader's Brain

CHAPTER 10: Trader Education
CHAPTER 11: The Best Teacher
CHAPTER 12: Adapt to the Markets
CHAPTER 13: The Successful Trader
Bibliography
About the Author
Index