Nadex Options Exchange Review
North American Derivatives Exchange or Nadex was founded in Chicago in 2004. This U.S.-based exchange pioneered affordable, low-risk, and legal ways to trade binary options and spreads. It is not an offshore broker and client funds are secured in U.S. banks. Majority of its client base is from the United States.
Nadex Security and Licenses
Nadex is regulated by the Commodity Futures Trading Commission in the United States. CFTC is an independent agency that oversees exchanges that offer options, swaps, and futures trading. Nadex earned a license to operate trading in binary options legally exclusively in the United States.
Nadex's registration with the CFTC confirms its high level of security unlike offshore exchanges. This also sets them apart from other exchanges or brokers that operate from regions with loose regulations. United States' laws on trading are stricter in comparison to other countries. This assures clients that their funds are safe and not kept in offshore accounts.
Nadex Platforms and Tools
Nadex has two trading platforms: for desktop and for mobile. These platforms directly connect clients to the Nadex Exchange, where pricing is accurate and orders are quickly executed.
Both platforms are offered for free, including all its charts, indicators, and drawing tools. The advantage of using the Nadex platforms is that clients can easily switch from the desktop version to the mobile and vice versa, and also track their trades on both.
Nadex for Desktop – this platform is accessible in Windows, Mac, and Linux. Both desktop and mobile Nadex platforms are free but clients still have to pay the transaction costs of each trade. The interface of the platform is user-friendly and orders can be placed with a simple drag and click. It is intuitive and allows the clients to modify their trading experience to their preference. Clients receive real-time data on the Nadex Exchange and contracts are filtered according to asset class, price, and expiration.
NadexGo – this mobile version allows clients to track their trades wherever they are. Traders can efficiently switch from the desktop platform to the mobile without any hassle. NadexGo is a fast and reliable mobile platform that ensures clients of the same quality and efficiency as the desktop version. It uses Progressive Web App technology, making it a cut above the rest.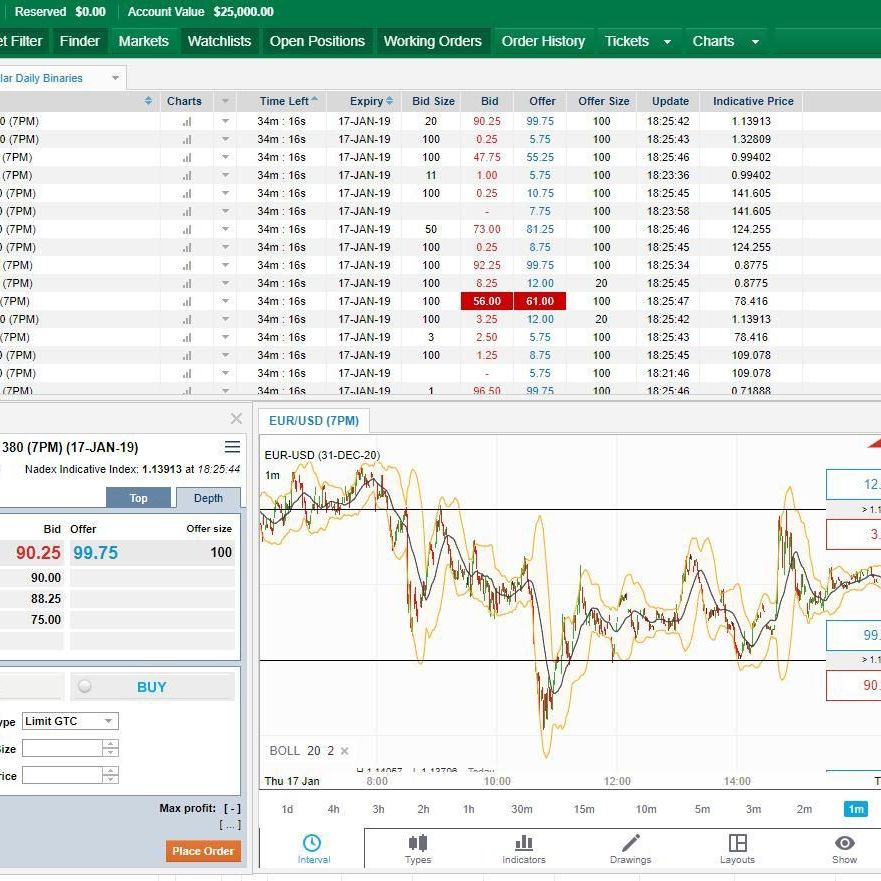 Nadex Exchange Conditions
Markets
Nadex offers a platform for trading foreign exchange, commodities, and stock indices. With only one account, clients can trade in the three markets alternately. Risk is limited in trading binary options and Nadex Exchange offers some of the most competitive spreads in the market. To create an account with Nadex, you only need $250 for the initial deposit.
Commissions and Fees
Nadex charges a $1 fee for contracts. Commissions could go up to $50 per trade maximum. They have generally low fees, given the range of binary options to trade. However, Nadex does not offer welcome bonuses of any kind to their clients.
Investments
For stock indices, Nadex offers Wall Street 30, US 500, US Tech 100, US SmallCap 2000, and more. They also offer China 50, FTSE 100, Germany 30, and Japan 225. Traders can easily track the activities in various markets, in the United States and the rest of the world.
For the currency markets or the foreign exchange market, they have a rather limited range of pairs. Most of them are major pairs and cross pairs. These include: EUR/USD, USD/JPY, EUR/JPY, and more.
The commodities that Nadex offer include metals, such as gold and silver, energy such as crude oil, and agricultural commodities such as corn and soybeans.
Nadex Final Review
The advantage of opening an account with an exchange compared to a brokerage firm is that traders can directly access the market. They offer bigger possibilities with less risk. The only disadvantage with trading with Nadex is the lack of variety in the markets. In most brokers, you can trade up to five or six markets, including cryptocurrencies. Nadex does not offer digital currencies in their binary options trading.
Their platforms are designed specifically for binary options and spreads, so if this is what you are looking for, this exchange is recommended for you. However, if you want to trade a wider range of instruments and diversify your portfolio, you might want to look for other options.
Actual and real-time market data is being streamed in exchanges like Nadex for free, which is not the case for brokerage firms. As a client of these firms, you are only connected to the market through a broker. In exchanges, you can access it directly.
With Nadex, you also have the chance to bet on bigger economic events such as Fed funds rate and U.S. jobless claims. Their official site also offers basic and essential information about binary options, which is particular to beginners. Nadex is most suitable for traders and investors that are active in the markets and are looking for ways to trade beyond the long-term. Nadex will help clients in betting across 5,000 different contracts in three markets and create an active trading experience.