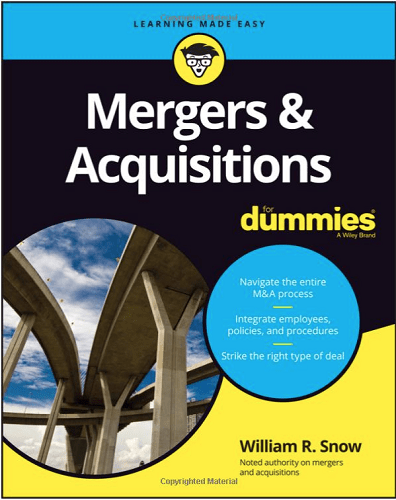 DESCRIPTION
This book is a follow-up of the previous Mergers and Acquisitions for Dummies and though covers and lay-outs were revised, the contents remain the same and must not be considered an update.
Mergers and Acquisitions for Dummies administers an easy way of discussion that will help one develop skills for wiser business decisions. This was written to facilitate the learning of different readers involving those that endeavor in business, those that consider merging and acquiring firms, and for students wanting to forge ahead of the mergers and acquisition industry.
Everything necessary about selling and purchasing firms is laid out comprehensively in this guidebook as it thoroughly explains the M&A process, terminologies, pertinent documents, valuation strategies, and insights on how to appropriately land a good deal. More so, real-life accounts and attestations were presented to employ education on how transaction modeling.
Complete with different M&A guides, it provides the fundamental tools capable of landing one a good and powerful mergers and acquisition deal. In line with this, additional learning includes professional insights and suggestions on due-diligence performance and the proper way of drafting an agreement. This does not only conduct case studies, and it bridges theories to practice so that one will be given armor to champion the competitive M&A industry.
ABOUT THE AUTHOR
Bill Snow is a renowned speaker, author, and mergers and acquisitions investment banker. He usually renders forums and discussions about finances, business, creativity, and M&A. He started working as the Managing Director of Jordan Knauff & Company back in 2013 up to the present. Prior to his employment, he served for two investment institutions.
Back in 2003, he launched to the public an online business that sells entrepreneurial products and solutions. During that time, he managed to write an online column about business, all while working as a consultant for a wastewater treatment company.
TABLE OF CONTENTS
Introduction
Part 1- Mergers and Acquisitions 101
Chapter 1- The Building Blocks of Mergers and Acquisitions
Chapter 2- Getting Ready to Buy or Sell a Company
Chapter 3- Previewing the Generally Accepted M&A Process
Part 2- Taking the First Steps to Buy or Sell a Company
Chapter 4- Financing M&A Deals
Chapter 5- With a Little Help from Your Friends: Working with M&A Advisors
Chapter 6- Finding and Contacting Buyers or Sellers
Part 3- Starting the Deal on the Right Foot
Chapter 7- Assuring Confidentiality
Chapter 8- Creating and Reviewing an Offering Document
Chapter 9- Properly Expressing Interest in Doing a Deal
Chapter 10- Ensuring Successful First Meetings between Buyer and Seller
Part 4- Firming Up the Deal
Chapter 11- An Insider's Guide to M&A Negotiating
Chapter 12- Crunching the Numbers: Establishing Valuation and Selling Price
Chapter 13- LOI and Behold: Making or Receiving an Offer
Chapter 14- Confirming Everything! Doing Due Diligence
Chapter 15- Documenting the Final Deal: The Purchase Agreement
Part 5- Closing the Deal… and Beyond!
Chapter 16- Knowing What to Expect on Closing Day
Chapter 17- Handling Post-Closing Announcements and Adjustments
Chapter 18- Come Together: integrating Buyer and Seller
Part 6- The Part of Tens
Chapter 19- Ten Considerations Prior to Signing an LOI
Chapter 20- Ten Major M&A Errors and How to Avoid Them
Chapter 21- Ten Possible Ways to Solve Valuation Differences
Appendix
Index