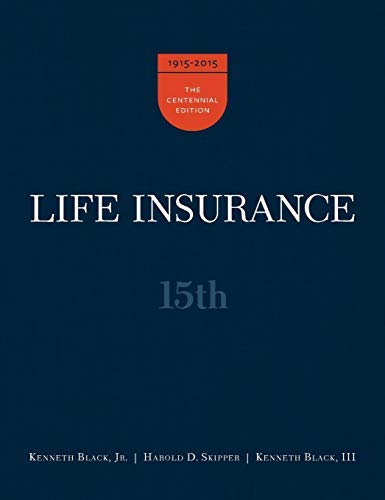 Description
The 15th Edition of "Life Insurance" is a useful reference material that provides readers detailed explanations about how life insurance programs work and are conceptualized. A must-have book for people in the field or interested in its workings. One cannot ask for more when wanting to get a grasp of life insurance.
About the Authors
Kenneth Black III is a graduate of the University of North Carolina and received his Juris Doctorate from the University of Georgia School of Law. His works include a vast spectrum of life and health insurances related activities.
Harold D. Skipper is Professor Emeritus of Risk Management and Insurance at Georgia State University. While at GSU, he chaired its Department of Risk Management and Insurance and held the C.V. Starr Chair of International Insurance until he retired in 2005. He is past President of ARIA, past Vice President of the IIS, and founder of the Asia-Pacific Risk and Insurance Association (APRIA).
Table of Contents
Preface

Introduction to Life Insurance Life and Health Insurance in Personal Financial Planning
Life and Health Insurance Fundamentals
The History, Role, and Importance of Life and Health Insurance

Types of Life Insurance Products

Introduction to Life Insurance Products and Their Environment
Whole Life Insurance Policies
Flexible-Premium Life Insurance Policies
Annuity and Special-Purpose Policies and Benefits

Aspects of Life Insurance Evaluation

The Life Insurance Contract: I
The Life Insurance Contract: II
Life Insurance and Annuity Cost Analysis and Disclosure
Insurance Advisor and Company Evaluation

Uses of Life Insurance in Personal Financial Planning

Life Insurance Planning
Life Insurance and Annuity Taxation in the United States
Life Insurance in Estate and Retirement Planning
Business Uses of Life Insurance

The Uses, Types, and Evaluation of Health Insurance Individual Health Insurance: I

Individual Health Insurance: II

The Mathematics of Life and Health Insurance

Fundamentals of Life Insurance Mathematics
Net Premiums
Life Insurance Reserves and Cash Values
Gross Premium Rate Structures and Nonguaranteed Policy Elements
The Mathematics of Health Insurance

Selection and Classification in Life and Health Insurance

Life and Health Insurance Underwriting: I
Life and Health Insurance Underwriting: II

Employee Benefit Plans

Social Insurance
Group Insurance
Health Care Plans
Retirement Plans

Organization, Management, and Regulation of Life and Health Insurance Companies

Life Insurance Company Organization and Management
Life Insurer Financial Management
Life Insurer Investment Management
Life Insurer Financial Reporting
Marketing Life and Health Insurance
Regulation and Taxation of Life Insurance in the U.S.

Index