Just2Trade was introduced back in 2007 as a discount brokerage platform. Its operations are conducted in the United States, with its main headquarters located in New York. Back in 2015, the ownership and licenses of Just2Trade were then acquired by WhoTrades Inc. This company later on converted the platform to facilitate social trading. 
The platform is excellently backed by numerous financial authorities including the National Futures Association (NFA), Securities Investor Protection Corporation (SIPC), and Financial Industry Regulatory Authority. (FINRA). While its strong regulatory oversight covered the traction it has, its growing visibility could also be attributed to its services. 
For one, its competitive pricing and powerful trade execution came to be the most appealing to its clients. Considered as a social trading platform, it also grants access to social trading that allows its subscribers to follow professional traders and utilize winning strategies. These are then backed with development programs including the Try2BFunded, wherein a funded account is guaranteed once users reach a certain level of benchmark. Lastly, a safe trading environment is provided as the platform holds little risks when it comes to funding.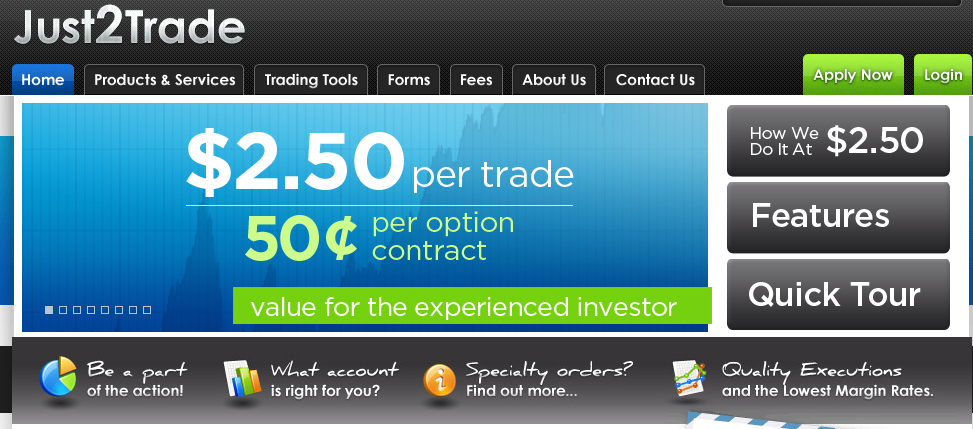 Just2Trade Account Selection 
What's more commendable about this platform is its wide selection of accounts composed of 13 types. With this impressive set, clients are provided with larger options in finding the best conditions that will suit their trading structure. 

Rollover

Partnership

Roth IRA

Corporate

Trust

Limited Liability

Joint with Tenants in Common

Sole Proprietorship

Individual

Custodial

Traditional IRA

SEP IRA

Joint with Rights of Survivorship



Note that these accounts hold different trading conditions; thus, requiring different minimum funding. The minimum deposit under the per-trade plan is $2,500. But while futures-related accounts require the same amount, it also demands a maintaining balance of $100 to keep them active.  
Since Just2Trade is a US-based brokerage firm, its priority are those clients residing in the United States. Moreso, the company prohibits non-US jurisdictions from opening an account and are not granted the same selection that US clients are entitled to. Some of these countries are Cuba, Iran, Iraq, Vanuatu, and Yemen.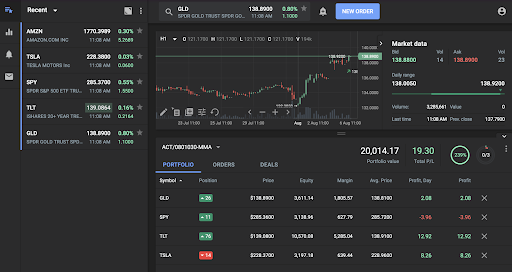 Just2Trade Asset Selection
Subscription to any of the aforementioned accounts grants access to a wide choice of markets and instruments. Exchange-Traded Funds, American Depository Receipts, futures, futures options, mutual funds, and bonds can be traded using the broker's in-house and third-party platforms. Note, however, that there are assets that can only be traded using a specific platform, and that clients will have to open an external application to manage multiple assets in one interface. 
Additional Features 
NovoAdvisor- This separate function allows clients to follow, study, and copy winning strategies. As it is heavily structured based on crowdsourcing investment ideas, traders are provided with a broad community wherein one can comprehensively study feasible strategies. More so, it is wired with reinforcement tools including returns, drawdowns, performance trends, and percentage allocations, allowing its clients to have substantial insights.
Try2BFunded- Just2Trade is just one among few brokers that grants funded accounts without upfront capital contribution. This benefit comes with requirements, and those who accomplished the first two stages will be given a pre-loaded account, with monthly subscription fee. Should clients manage to keep up with this month-on-month setup, their accounts will automatically receive options regarding how much they want to load in their account.
$30,000 ($100 monthly subscription fee)

$50,000 ($150 monthly subscription fee)

$100,000 ($300 monthly subscription fee)
Customer Support
Another aspect that Just2Trade takes pride in is its responsive customer assistance. It provides active lines of communications where queries may be placed through, including telephone fax, and email. More so, it has a live chat feature that comes convenient for those clients in need of an immediate resolution. Unfortunately, it does not allow 24-7 support, and is only available from Monday to Friday. 
Conclusion 
If we are to assess the above review, it can be noted that Just2Trade makes a decent platform. Looking past its disadvantages, its laudable account selection, wide asset classes, and reinforcement tools, compensate heavily for the downside of its restricted coverage. With this, clients are guaranteed to expand their margin of profitability and make the most out of trading.