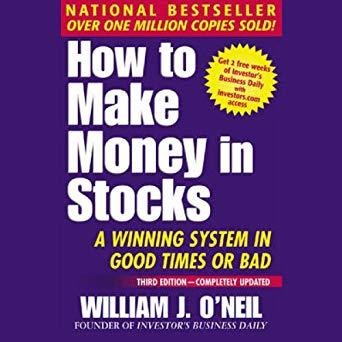 Description
William O'Neil's best-selling book, How To Make Money in Stocks has spoken to millions of investors and made significant impacts on their investing careers. This book gives key information to finding stocks that have the potential to make a profitable investment. It also presents charts and figures that made history in stocks.
Investors' perspective in stock trading will also be taken to a whole new level as O'Neil discusses the real nature of stock trading and his well-known CAN SLIM principle. Adopting the investing principles presented in this book is what readers can ultimately benefit from reading this material. Read at your own "risk" and discover the gem in stock trading.
About the Author
William O'Neil founded one of the pillars in the financial newspapers, the Investor's Business Daily. He is known to be the most influential person in developing investment research. He has established his own company, which now stands at the forefront of equity market information and data research worldwide.
Table of Contents
The book has three parts which underscore the following topics:
Part I: A Winning System: CAN SLIM
Introduction You Must Learn and Benefit from America's 100 Years of Super Winners
Chapter 1 America's Greatest Stock-Picking Secrets
Chapter 2 How To Read Charts Like a Pro and Improve Your Selection and Timing
Chapter 3 C= Current Big or Accelerating Quarterly Earnings and Sales per Share
Chapter 4 A= Annual Earnings Increases: Look For Big Growth
Chapter 5 N = Newer Companies, New Products, New Management, New Highs Off Properly Formed Chart Bases
Chapter 6 S = Supply and Demand: Big Volume Demand at Key Points
Chapter 7 L = Leader or Laggard: Which is Your Stock?
Chapter 8 I = Institutional Sponsorship
Chapter 9 M = Market Direction: How You Can Determine It
Part II: Be Smart from the Start
Chapter 10 When You Must Sell and Cut Every Loss… Without Exception
Chapter 11 When to Sell and Take Your Worthwhile Profits
Chapter 12 Money Management: Should You Diversify, Invest for the Long Haul, Use Margin, Sell Short, or Buy Options, IPOs, Tax Shelters, Nasdaq Stocks, Foreign Stocks, Bonds, or Other Assets?
Chapter 13 Twenty-One Costly Common Mistakes Investors Make
Part III: Investing Like a Professional
Chapter 14 More Models of Great Stock Market Winners
Chapter 15 Picking the Best Market Themes, Sectors, and Industry Groups
Chapter 16 How I Use IBD to Find Potential Winning Stocks
Chapter 17 Watching the Market and Reaching to News
Chapter 18 How You Could Make Your Million Owning Mutual Funds
Chapter 19 Institutional Portfolio Ideas
Chapter 20 Important Time-Tested Proven Rules and Guidelines to Remember
Bonus Chapter Test Your Knowledge
Success Stories
Index