Forex.ee is an online brokerage company founded in 1998. It is currently headquartered in Estonia, providing global clients solutions and access to various financial markets. This broker's primary objective is to render an inclusive and encompassing trading service for all levels of traders. Ever since its inception, this goal can already be gleaned in the company's effort of providing authentic account selection and other generous offers. 
To note, it has a wide array of account types- the ECN, STP, and Crypto accounts. While each account offers unique trading conditions, all of them work through Electronic Communications Network. This structure highly benefits both the broker and its clients, directly eliminating conflict of interest and increasing algorithmic functions for a more conducive trading. In addition to this, Forex.ee stands as one of the commendable brokers in terms of spreads and liquidity. More so, clients are equipped with ultra-low commission rate, making it one of the ideal financial firms in the industry. 

Forex.ee Account Selection 
Forex.ee has an excellent selection of five accounts. As mentioned above, all works through ECN technology, and each account is equipped with unique and personalized trading conditions. 
STP Account- For as low as $50, the Straight-Through-Processing account can be opened. This account offers a good set of base currency including USD, EUR, RUB, and JPY. For an amount, clients are also provided with industry- standard conditions such as 0.01 trade size and a minimum spread of 0.5 pips. Moreover, its leverage may be used up to a maximum of 1:500.
Basic ECN Account- This is the entry level of Forex.ee's ECN accounts.  This comes with basic conditions for just $200. For such amount, a trade size of 0.01 lots and a minimum spread of 0 are provided.  Since this uses ECN technology, its maximum leverage of 1:200 comes lower than the 1:500 offered in the STP account. Nevertheless, it is still a generous offer if we are to look beyond the added commission of 5 base currency per lot. 
Advanced ECN Account- While this account requires a higher deposit fee worth $1,000, its spreads and trade size are just similar with the Basic ECN account. The only thing that differs is that it offers a higher leverage ratio of up to 1:500. It also comes more favorable as it has a 2.5 per lot commission. Just like the aforementioned accounts, the Advanced ECN is convertible to swap-free versions. 
Premium ECN Account- Clients may enjoy premium features for a minimum deposit of $25,000. This account is designed to facilitate the needs of the more advanced type of traders. Its features are inarguably excellent but its rates do not differ with the other ECN accounts. Its commission, however, is smaller as it only charges 1.8 base currency per lot. 
Crypto Account- The Crypto account comes as Forex.ee's most pocket-friendly among its five selection.  It only requires a deposit of $10, and for an amount, clients are given an excellent selection of virtual coins which can also be processed through ECN. More so, it has floating spreads system, allowing one to use spreads according to the persisting liquidity level during a specific time.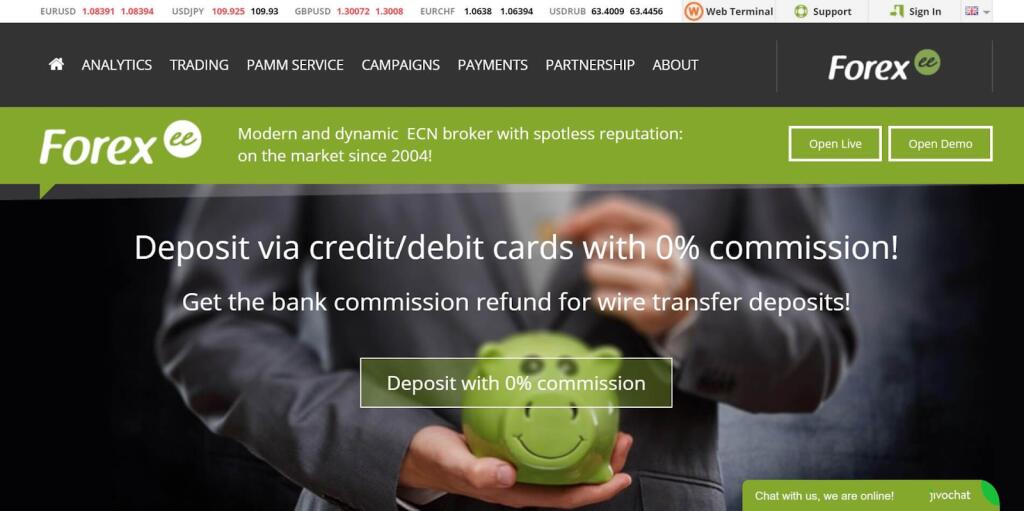 Forex.ee Platform 
As for the trading platform, Forex.ee uses the popular MetaTrader 4. Trading with this platform has been made more convenient and easy as it is equipped with optimum in-house analytics and external plug-ins. Introduced in the market in 2005, the developer of the MT4 consistently integrated technologies within the system all through its years of service, and one of the most laudable is its Expert Advisors. This kind of technology completely automates the MT4. With that, clients are provided with more precise trading reports from fundamental analysis up to technical researches. More so, it enhances the platform's charting capabilities, rendering a higher level of trading algorithm for accuracy. 
Customer Support
There are only two communication lines available for client assistance- telephone and email. These two are obviously inadequate as other brokerage firms offer live chats and multiple social media networks. However, Forex.ee's customer support is thorough in a way that there are four divisions of support depending on customers' queries. These are:
General Questions:
Email: [email protected]
Tel: +442035198249
Customer Support:
Email: [email protected]
Live chat is available.
Trading Departments:
Email: [email protected]
Tel: +442035198249
Partnership Department:
Email: [email protected]
Tel: +44203519824

Conclusion 
For those who take interest in subscribing with Forex. ee, they will surely make the most out of trading using the broker's diverse asset classes. Its account selection also level with its asset classes in terms of excellence. However, clients are given limited commodities and indices options, but this setback was compensated by Forex.ee's rapid execution and high level of security.  Taking all this into consideration, it can be noted that Forex.ee is a legitimate online broker that is capable of increasing one's margin of profitability.