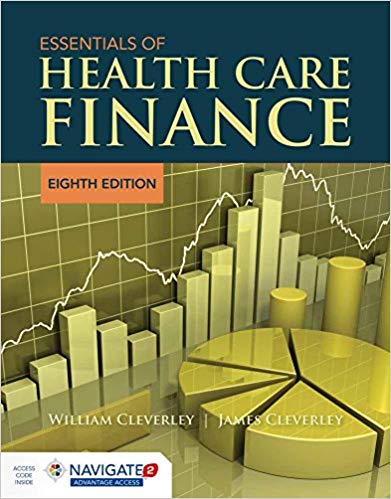 Review Essentials of Health Care Finance
by William O. Cleverley & James O. Cleverley
Description
Health care finance is a topic rarely covered by books. Essentials of Health Care Finance is one of the few books that give us practical insights into health management. This book is one of the most popular ones in the health care industry.
This book covers the discussion of health care and the integration of economics, finance, and accounting. Now in its eighth edition, Essentials of Health Care Finance includes updated information and real-world examples of financial struggles and solutions. This particular edition also emphasizes, throughout its chapters, comprehensive coverage of the impact of the Affordable Care Act.
About the Authors
William Cleverley is the founder of Cleverley and Associates and is currently teaching at The Ohio State University. James Cleverley is a president at Cleverley and Associates.
Table of Contents
The book has the following contents:
Preface
Content of the Book
About the Authors
Contributor
Chapter 1 Financial Information and the Decision-Making Process
Chapter 2 Billing and Coding for Health Services
Appendix 2-A Sample UB-04 Form and Sample CMS-1500 Form
Chapter 3 Financial Environment of Health Care Organizations
Appendix 3-A List of MS-DRGs and Relative Weights for Fiscal Year 2010-2016
Chapter 4 Legal and Regulatory Environment
Chapter 5 Measuring Community Benefit
Appendix 5-A Schedule H
Chapter 6 Revenue Determination
Chapter 7 Health Insurance and Managed Care
Chapter 8 General Principles of Accounting
Chapter 9 Financial Statements
Appendix 9-A Case Example: Audited Financial Statement
Chapter 10 Accounting For Inflation
Chapter 11 Analyzing Financial Statements
Chapter 12 Financial Analysis of Alternative Health Care Firms
Chapter 13 Strategic Financial Planning
Chapter 14 Cost Concepts and Decision Making
Chapter 15 Product Costing
Chapter 16 The Management Control Process
Chapter 17 Cost Variance Analysis
Chapter 18 Financial Mathematics
Chapter 19 Capital Project Analysis
Chapter 20 Consolidations and Mergers
Chapter 21 Capital Formation
Chapter 22 Working Capital and Cash Management
Chapter 23 Developing the Cash Budget