EightCap labels itself "the home of MT4 traders." It claims to make MT4 trading better for traders by offering a personalized trading experience and a highly efficient technology infrastructure. This way, investors can focus on their trading career with a sense of security and ease.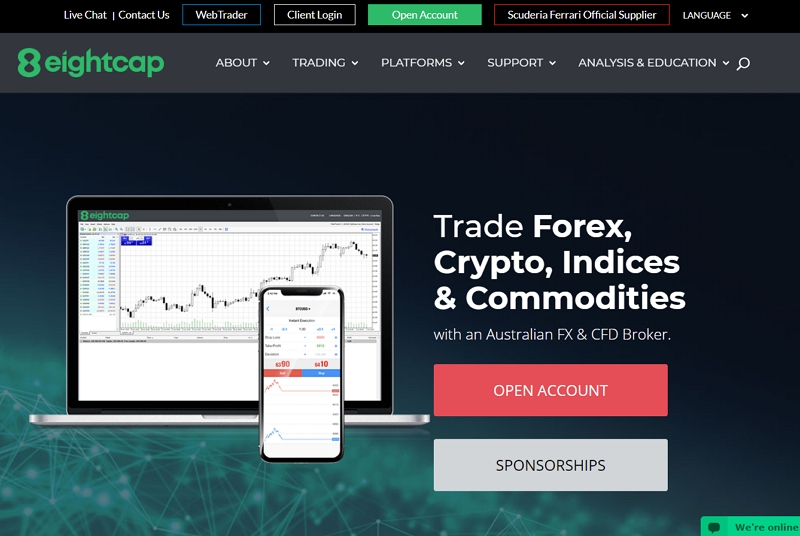 EightCap Security and Licenses

EightCap Pty Ltd acquired the Australian Financial Services License #391441 under the regulation of the Australian Securities and Investments Commission. Under this license, EightCap is authorized to provide financial services within Australia. 
EightCap Global Ltd is also regulated by the Vanuatu Financial Services Commission, which makes it a multi-jurisdictional broker. This is a security feature that guarantees clients the safety of their money. All client funds are also segregated and stored in high level banks and they are insured at Lloyds of London.
It is also worth mentioning that EightCap's execution servers are based in Equinix data centers, similarly to the world's largest financial institutions.
EightCap Platforms

EightCap offers two platforms: MetaTrader4 and MetaTrader5. Both platforms are known for their convenience and functionality, but each one has its own primary features.
MT4
The award-winning MT4 platform is widely known for its features in forex trading. It has an intuitive interface, advanced charting package, and systematic trading characteristics. These features are made better combined with EightCap's own high level technology infrastructure.
MT5
MT5 was developed to address the lack of multi-trading features of MT4. The latter was designed specifically for forex trading, which is why MT5 serves as the complement to MT4. The newer platform could trade various assets, including cryptocurrencies, with the same level of quality and functionality found in its antecedent.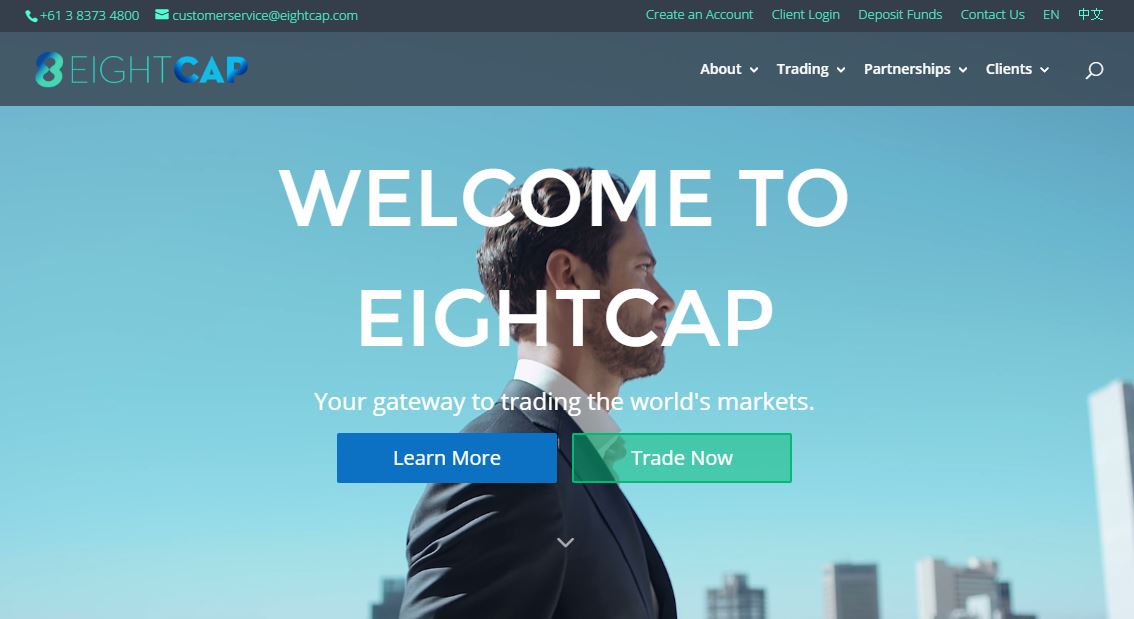 EightCap Markets

EightCap specializes in foreign exchange and CFDs trading, but it also offers services in other markets:
Currencies
Trading forex with EightCap is made easier with its intuitive and effortless platforms. It combines its own high-level technology infrastructure with the features of MT4 and MT5. Since EightCap has a license to operate in multiple jurisdictions, traders are guaranteed that their funds are safe even if they are outside Australia.
Commodities
You can expect premium liquidity from EightCap's services from their top tier liquidity providers. Spreads on EightCap's platforms begin as low as 0.0 pip. With these competitive trading conditions, you can invest in the metal and oil markets with your ideal risk/reward profile.
Indices
You can have the opportunity to trade some of the world's leading and largest stock indices with MT4 and MT5's instant execution feature. With EightCap's competitive spreads, you can open long and short positions and actively trade for the long-term.
Cryptocurrencies
EightCap gives clients the opportunity to trade cryptocurrencies such as Bitcoin and Ethereum without the need of creating a crypto wallet. Although this is convenient, it is still recommended to have a secure and offline cryptocurrency wallet before you even begin trading. This is to prevent your crypto from getting lost or stolen, especially when they are stored on exchanges.
EightCap Research Materials

EightCap also has a competitive range of educational and research materials, including but not limited to market analysis, news, forex tutorials, and strategies.
News & Analytics
On EightCap's official website, you can find articles on the analysis of various significant market events such as the daily charts of USD/EUR and market forecasts for currencies such as the USD. There are also articles that focus on the oil markets and forecasts for oil prices, especially widely-traded contracts like Brent and WTI.
Every trading day, EightCap provides news on the latest market movements, especially in the forex markets. The data for these news are pulled from early trading to provide investors with sufficient information about the standing of particular currencies like the safe-havens, the commodity currencies, and risk currencies.
Trading Guides
There is an overview of the market, as well as basic jargons that are widely-used in trading. Terms such as bull and bear, long and short, and spreads and leverages are explained. There is also a short overview of the MetaTrader platforms, which is aimed to provide beginning traders with the knowledge of the platforms' basic functionalities.
There are also educational materials on the various trading strategies commonly used in the market. Some of the most popular ones are: Bollinger Bands, Relative Strength Index, and Technical Analysis. Traders can learn when to use specific strategies given the right trading conditions. There are articles on how to use the RSI, as well as forecasting potential support and resistance levels with the market movement.
Customer Support
You can gain access to EightCap's personalized customer support. This broker has a multilingual support team that is within the client's reach. The support team, composed of trading advisers, helps the clients in navigating the financial markets, executing orders, and weighing the pros and cons of important trades.
EightCap Review Conclusion

EightCap has a clear mission, which is to provide a high level of financial services to a wide scope of clients. One of the main qualities of this broker is its exceptional trading environment. It does not fail in the areas of platform and research. It is also a multi-jurisdictional broker, which is always a plus when it comes to choosing a reliable broker. The more jurisdictions or licenses a broker has, the higher its services are and the more secure its clients' funds are.