Regent Group Markets' online trading platform was first introduced as BetonMarkets.com. Came 2013, it was rebranded to Binary.com. As the company underwent another expansionary measure to get a larger share of the market, it was then renamed as Deriv.com. 
To date, the platform's subscription already breached one million, and its impressive visibility could be attributed to its diverse asset selection. With its tight and ever-growing market popularity, it has opened additional offices based in Japan and Malaysia. More so, it has been a sought-after brokerage firm owed mainly to its highly reliable platform, encompassing education-related materials, and pocket-friendly fees. 
 Deriv.com Account Selection 
The broker only offers two accounts, rather than the standard three or five. While the broker's reach can be small for those pursuing a wider variety of options, it has almost all of the tools necessary to promote a fair trading experience. It's worth mentioning that, in addition to its virtual and regular accounts, its MT5 account has its own collection of trading conditions. It was only added in 2019, and it features cutting-edge technology as well as a larger profit margin.
Risk Management 
Due to binary options' innate volatility, the broker ensures that consumers weigh both the potential benefit and the likely expense when buying a deal. The system determines the requisite stake to buy the deal on your behalf after you choose an incentive. Just the original stake will be refunded, and the stake cannot, in any way, be raised. 
This brokerage company included a segment that goes into proper trading patterns in detail. It purposefully lists the dangers of buying binary options while still offering advice about how to invest safely. Furthermore, Deriv.com supports its customers in setting trade limits or self-exclusion from those practices. Certain limits can be set based on how much tradable funds one is willing to lose in a given amount of time, how long you can trade in one trading session, and even how long you can go without visiting the website. Self-exclusion, on the other hand, necessitates a six-month commitment. Clients are allowed to set a limit on their account, made efficient through a phone call or sending a text message.
Market Analysis 
The platform publishes a weekly newsletter of market-related news from across the globe, and this includes in-depth reviews of recent trends in the most common currency pairs, market predictions, and a trading advice. A periodical market update and weekly trading signals are also offered by the broker, the latter of which is delivered by videos from a community of trained financial analysts and experienced traders.
Education and Research Section 
The research and education part of Deriv.com, without a doubt, its most impressive feature. The Research section is divided into five sections: price updates, trading signals, an economic calendar, calculators, and commentary. . With its real-time price updates coming as the most reliable feature in this category, other features, such as an empty economic calendar, are a complete letdown.
The instructional section is supplemented with feature articles, manuals, a glossary, and a Frequently-Asked-Question segment. The Trading Academy is the most laudable, with written and visual materials. It mainly teaches clients the fundamentals of investments as well as other professional knowledge that they need to know before investing in financial markets.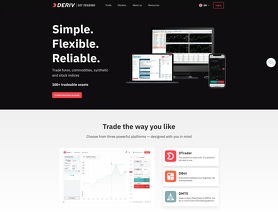 Customer Assistance 
Deriv.com places a high value on customer service. It also prioritizes the needs of its customers. Furthermore, the broker is committed to delivering services and goods that give the best possible trading experience for all clients. 
Deriv.com offers a variety of options for uploading questions and submitting inquiries. It has a working feedback system that involves a phone number, social media profiles, and Reddit bots, among other things. There is also a ticketing division of the business, which can be useful if there are any logistical issues. To say the least, the Live Chat function, which provides real-time customer service, is the most impressive function. 
Get Involved with Deriv.com
  Deriv.com stands as one of the best the best binary options and financial service provider in the market. As a result of years of innovation and expansion, all trading conditions are met. More so, it was the first to offer a wide range of trading conditions. The company still has a long illustrious history of legitimate service, as shown by its excellent and well-received offerings. To summarize, it is undeniably a reliable platform if we are to consider the abovementioned specifications. Its wide variety of platform options, impressive asset portfolio, and quick customer care testify to its high level of service, making it a brokerage firm worth investing in.