Feb18
Business Secrets from the Bible: Spiritual Success Strategies for Financial Abundance BY RABBI DANIEL LAPIN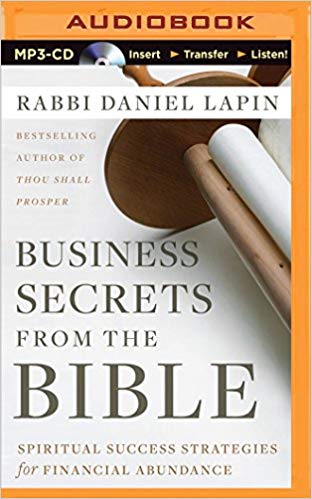 About the book
Business Secrets from the Bible: Spiritual Success Strategies for Financial Abundance suggests a better approach and perspective of success by using teachings from the Bible. This book is especially written for people who want to prosper financially and spiritually at the same time. It tells readers that they can embrace their mistakes and turn them into victories. It is full of advice on how to manage finances, connection, and spirituality with a practical approach. Its main goal is to transform its readers' minds and actions in a persuasive way.
Rabbi Daniel Lapin uses his personal knowledge and wisdom from the Bible to write a book that reveals the link between money and spirituality. The author encourages readers to become self-disciplined, upright, and strong in character to reach prosperity. The book emphasizes on creating a positive attitude in moneymaking and using biblically acceptable strategies.
Review
Business Secrets from the Bible: Spiritual Success Strategies for Financial Abundance is a book about attaining success in life and business with the guide of Bible teachings. This book is not a book on finance in terms of the stock market or financial analysis or corporate finance but rather how to manage money in the context of biblically-accepted strategies.
The author strictly draws teachings from the Jewish Bible, which does not include the New Testament. Overall, the book focuses more on the relationship between Jewish culture and business. The book presents many "secrets" to the link between money and spirituality through unraveling the correlation between financial practices and bible teachings. This book that derives from ancient Jewish wisdom is applicable to all aspects of life. It will not only help its readers become spiritually rich but also financially wise.
About the author
RABBI DANIEL LAPIN is a Torah scholar, Jewish leader, television and radio personality, and presidential advisor to former US president George W. Bush. He co-founded the Pacific Jewish Center in Los Angeles. He is the president of the American Alliance of Jews and Christians. He was named one of the top 50 rabbis in America by Newsweek.
Table of Contents
Introduction … xi
Secrets #1-#40 … 1-271
Final Thoughts … 283
About the Author … 285
Index … 287