Mar05
Black Edge: Inside Information, Dirty Money, and the Quest to Bring Down the Most Wanted Man on Wall Street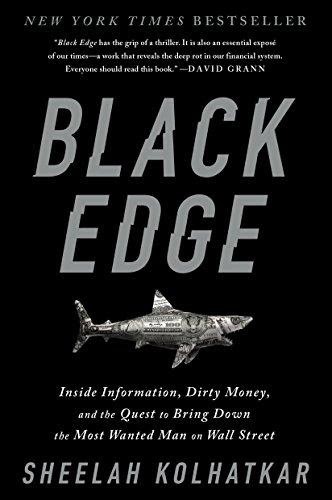 DESCRIPTION
The introduction of the hedge fund industry took Wall Street by storm as it immediately revolutionized the whole financial system. The industry's fundamental premise is far from the conventional methods of gaining profits as founding fathers did not build infrastructures or developed technologies. Instead, they clock in billions of earnings through market speculation and financial analysis.
Going to controversies in the industry of hedge funds, Steven A. Cohen was considered as one of the most successful and influential traders. However, limelight did not last long as his name was tainted with controversies after SAC Capital, his very own hedge fund, was put under a seven-year-long investigation. Authorities deemed Cohen's hedge fund as "magnet for market cheaters," which culture perpetuated "edge" and worse "black edge" a type of inside data or information.
As the company faced allegations, mounting legal charges continued to pile in relation to insider trading setup that the company allegedly practices. What's interesting about this whole issue is that Cohen did not face any legal charges. And this book Black Edge is an account thriller that poses queries concerning the dirty works of those sitting on higher financial pedestals. More so, it brings out questions as to how the utilization of financial power shaped and changed the financial landscape.
ABOUT THE AUTHOR
Sheelah Kolhatkar previously worked as a hedge fund analyst. Presently, she is a contributor/writer at the New Yorker journal, wherein she produces articles concerning Wall Street, Silicon Valley, and politics. She has previous experiences as a speaker and commentator on business and economic-related forum. Some of her commendable compositions made it to Bloomberg Businessweek, New York Magazine, New York Times, and other esteemed publications.
TABLE OF CONTENTS
Cover
Title page
Copyright
Prologue: The Flip
PART ONE
Chapter 1: Money, Money, Money
Chapter 2: What Stevie wants, Stevie Gets
Chapter 3: Murderers' Row
PART TWO
Chapter 4: It's Like Gambling at Rick's
Chapter 5: Edgy, Proprietary Information
Chapter 6: Conflict of Interest
Chapter 7: Stuff That Legends Are Made Of
PART THREE
Chapter 8: The Informant
Chapter 9: The Death of Kings
Chapter 10: Occam's Razor
Chapter 11: Undefeatable
Chapter 12: The Whale
Chapter 13: Karma
Chapter 14: The Life Raft
Epilogue
Cast of Characters
Dedication