Amana Capital is a forex broker that operates as the brand name of 180 Capital. It is owned and operated by private investors represented by Capital Guidance and Manara Capital. This broker offers direct access to the financial markets in over 80 countries worldwide. It has offices in the United Kingdom, Cyprus. Labuan, Dubai, Lebanon, and Mauritius. 

Amana Capital Security and Licenses
Amana Capital operates in various jurisdictions. It is a group of companies that hold multiple licenses and regulatory papers from respected government and independent authorities. Each of Amana Capital's offices are regulated by their respective country's regulatory body. Amana Capital's office in the United Kingdom, Amana Financial Services Limited UK, is regulated by the Financial Conduct Authority. Its arm in Dubai, Amana Financial Services Ltd Dubai, operates under the rules and regulations of the Dubai Financial Services Authority. 
It also has a licensed investment firm in Cyprus under the regulatory authority of the Cyprus Securities and Exchange Commission. Another of its offices, Amana Capital SAL operates as a Financial Intermediary Institution and abides by the regulations of the Lebanese Capital Markets Authority. AFS Global Limited is a licensed financial firm operating under the regulatory authority of the Labuan Financial Services Authority, while ACG International Limited is authorized and licensed to operate by the Financial Services Commission of FSC. 
Amana Capital certainly operates in multiple jurisdictions, what with its many offices around the globe. This is an attractive feature for most clients, since it shows that this broker is respectable and trustworthy. It also shows its honesty in abiding by the rules and regulations of the jurisdictions it operates in. But more importantly, it guarantees clients that their funds are safe anywhere in the world.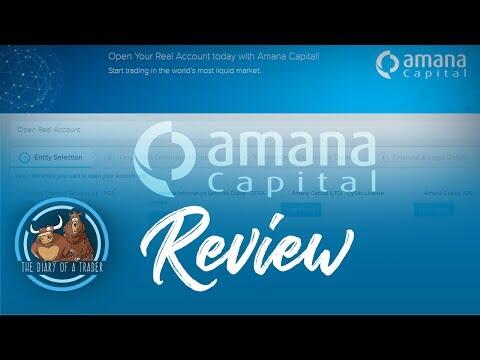 Amana Capital Services and Features
Living up to its reputation, Amana Capital offers quality services and great trading conditions for their clients. This broker knows the importance of diversity, and so it offers multiple platforms, tools, and indicators for clients to use widely and freely in their trades. The highlights of its services are discussed below: 
MT4 WebTrader
The MT4 WebTrader is the browser version of the MT4, a trading platform developed by MetaQuotes and widely popularized by foreign exchange brokers. It is a classic in the industry, with most brokers offering at least one version of the platform on their website to garner customers. It is filled with hundreds of tools and indicators, along with an intuitive interface that even beginning traders can navigate through. It is highly functional  and efficient, and prominent in managing multiple open positions at once. 
MT4 Multiterminal
For traders who invest in multiple financial markets, the MT4 Multiterminal is the right choice. This platform allows traders to manage multiple trading accounts that invest in forex, commodities, stocks, and CFDs. It is equipped with the same amount of tools and indicators, and runs smoothly despite the multiple terminals. For traders who use option and algorithmic trading, Expert Advisors are available for use. They can also set multiple order allocation methods by setting up a master account that manages it all.
MT4 Desktop & Mobile
The desktop version of the MT4 is a downloadable and installable version of the web trader. It offers the same high-level functionality as its counterparts, but with an added security. It ensures that data about your trades are saved on your computer and not on the internet. All transactions are also secured with 128-bit encryption and it offers unlimited charts that can be used for multiple time intervals. The mobile version of this platform is also very convenient and allows traders to trade anytime and anywhere. It is ideal for portable trading for investors on the go.
MT5 Desktop & Mobile
The MT5 was another platform developed by MetaQuotes as a successor to the MT4. It was created with the idea of complementing the features of MT4. The advantage of using MT5 is the opportunity to trade in at least five financial markets, not only foreign exchange, which is what MT4 is known for. Like its predecessor, it offers advanced trading tools and indicators. It also allows copy trading especially for beginning traders, as well as automated trading strategies. There is also a mobile version for the MT5 desktop, which is available in both iOS and Android.
When it comes to trading tools and conditions, Amana Capital does not fall short either. It offers innovative tools that make trading easier for their clients. It includes charts, calculators, and analytics. Some of them are detailed below:
Trading Signals
Amana Capital uses the best technical tools that are employed through sites like Autochartist.com and TradeCaptain to provide clients with the right trading signals for their trades. This allows traders to remain updated with the latest trends that may be beneficial to their positions.
Economic Calendar
This tool records all the important market events that have a direct impact on all the financial markets. It lists minute-by-minute movement in foreign exchange, as well as oil, metals, and stock markets. It also reports IPOs, politics, and economic news. 
RiskPulse Analytics
RiskPulse Analytics offers intelligent data evaluation with the help of three functions: analysis of past trades, identification of future behavior in trading, and trading outlook. It analyzes each trader's performance to assess its trajectory or whether it needs changing. 
Amana Capital Conclusion
Amana Capital is a highly-respected and trustworthy broker that offers trading services in over five jurisdictions. It has clients all around the world trading in forex, stocks, cryptocurrencies, indices, and commodities. It has excellent trading conditions and offers a high-level of functionality in all its platforms. Advanced tools and indicators, as well as free strategies are also free for all of its clients. Amana Capital implements strict security for all client data and even funds, guaranteeing traders of a great experience. It is suited to all kinds of traders anywhere in the world.