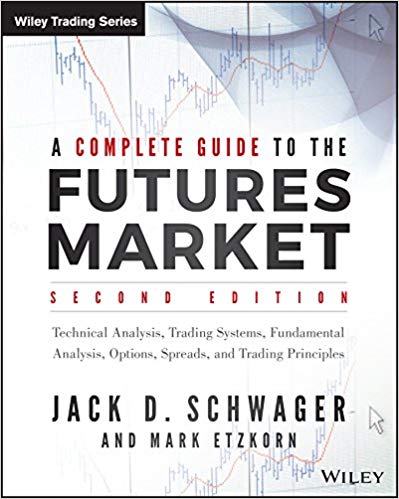 Review A Complete Guide to the Futures Market: Technical Analysis, Trading Systems, Fundamental Analysis, Options, Spreads, and Trading Principles
by JACK D. SCHWAGER
Description
Traders chasing the trading innovations, developments, and technical complexities can now sail the world of trading with ease as they use A Complete Guide to the Futures Market as their compass and map. This comprehensive handbook details the significant and substantial concepts and information traders need to know about the futures market.
Fret not and join the growing number of investors exploring the futures market and its bright horizon taking with you this technical guide book to lead you to your dream financial path in trading.
About the Author
Jack Schwager is a futures and hedge funds expert in America. His books became tremendously influential in the trading industry as it contained highly comprehensive technical concepts and ideas about trading. He co-founded Fund Seeder – a trading talent platform intended to look and acquire talented traders across the globe and connect these traders with sources of investment capital.
Table of Contents
This book contains the following chapters:
About the Authors
Part I: Preliminaries
Chapter 1: For Beginners Only
Chapter 2: The Great Fundamental versus Technical Analysis Debate
Part II : Chart Analysis and Technical Indicators
Chapter 3: Charts: Forecasting Tool or Folklore?
Chapter 4: Types of Charts
Chapter 5: Linking Contracts for Long-Term Chart Analysis: Nearest versus Continuous Futures
Chapter 6: Trends
Chapter 7: Trading Ranges
Chapter 8: Support and Resistance
Chapter 9: Chart Patterns
Chapter 10: Is Chart Analysis Still Valid?
Chapter 11: Technical Indicators
Part III: Applying Chart Analysis to Trading
Chapter 12: Mid Trend Entry and Pyramiding
Chapter 13: Choosing Stop-Loss Points
Chapter 14: Setting Objectives and Other Position Exit Criteria
Chapter 15: The Most Important Rule in Chart Analysis
Part IV: Trading Systems and Performance Measurement
Chapter 16: Technical Trading Systems: Structure and Design
Chapter 17: Examples of Original Trading Systems
Chapter 18: Selecting the Best Futures Price Series for System Testing
Chapter 19: Testing and Optimizing Trading Systems
Chapter 20: How to Evaluate Past Performance
Part V: Fundamental Analysis
Chapter 21: Fourteen Popular Fallacies, or What Not to Do Wrong
Chapter 22: Supply-Demand Analysis: Basic Economic Theory
Chapter 23: Types of Fundamental Analysis
Chapter 24: The Role of Expectations
Chapter 25: Incorporating Inflation
Chapter 26: Seasonal Analysis
Part VI: Futures Spreads and Options
Chapter 30: The Concepts and Mechanics of Spread Trading
Chapter 31: Intercommodity Spreads: Determining Contract Ratios
Chapter 32: Spread Trading in Stock Index Futures
Chapter 33: Spread Trading in Currency Futures
Chapter 34: An Introduction to Options on Futures
Chapter 35: Options Trading Strategies
Part VII: Practical Trading Guidelines
Chapter 36: The Planned Trading Approach
Chapter 37: Seventy-Five Trading Rules and Market Observations
Chapter 38: 50 Market Wizard Lessons
Appendix A: Introduction to Regression Analysis
Appendix B: Appendix B: A review of Elementary Statistics
Appendix C: Checking the Significance of the Regression Equation
Appendix D: The Multiple Regression Model
Appendix E: Analyzing the Regression Equation
Appendix F: Practical Considerations in Applying Regression Analysis
References and Recommended Readings
Index