24Option Broker Overview
24Option is a Foreign Exchange and a former binary options brokerage platform established back in 2010. It was developed by Rodeler Limited, a financial company located in Cyprus. Before pulling out its binary options service and transitioning into Forex, it was known as the market's second-biggest binary options provider. Its commendable standing came second to Banc de Binary, the largest options company located in Israel. 
The company had integrated multiple cutting edge technologies within the system in a bid to bolster trading experience. More so, it diversified its investment types and enhanced customer support to carry out an efficient trading regardless of portfolios' volumes. As the platform is wired with optimum functions, clients are guaranteed that they would benefit and make the most out of Forex and Contract for Difference trading. 
If we are to check some of its setbacks, the inadequacy of pertinent information on its website would come as the most pressing. As the company failed to provide enough details, paired with its sketchy geographical location, it is easy for some to label 24Option as a fraudulent company. However, its operations are legally binding and legitimate since it is regulated by the Cyprus Securities and Exchange Commission. 

Account Selection 
There are four account types in 24Option's selection. Since these accounts function in a tiered structure, premium features and other competitive conditions are available in higher-tier accounts. But regardless of this setup, clients will surely find the most suitable as all of its accounts offer flexible and unique trading conditions.
Basic Account- Novice traders may begin trading using the Basic account. For a minimum deposit of $250, clients will be provided with authoritative educational materials, regular stream of financial and economic news, one free withdrawal, and one free seminar. In addition to this, registration with the Basic account grants users comes a demo account equipped with $100,000 mock balance. 
Gold Account- This account requires a minimum deposit of $5,000. But for a more expensive price, clients will get to enjoy functions way better than what are offered in the Basic account. Trading price is more competitive, while it offers two basic lessons, one monthly webinar, and one monthly free withdrawal. 
Platinum Account- To open this account, clients must deposit a minimum of $10,000. The platinum account bears similarities with the aforementioned accounts, only that it has minimal improvements. Its trading price allows larger margin of profitability, while clients are provided with three free withdrawals every month.
VIP Account- The VIP account can be accessed for $50,000. As this requires the most expensive deposit, 24Option made sure that its trading conditions will render the most benefits for clients. Its pricing, which stands far beyond other brokerage firms' offers, comes as its most advantageous point. More so, it ramped up its freebies by providing five advanced tutorials and webinars every month. Users are also given unlimited withdrawal without any additional fee.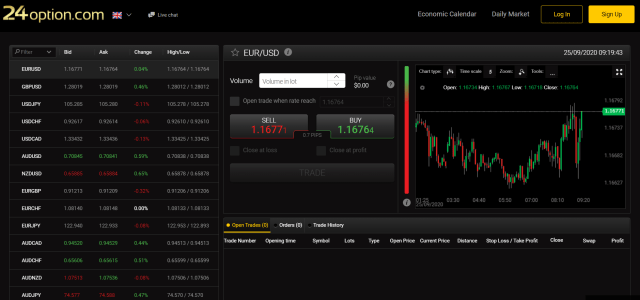 24Option Additional Features
Education and Research– This brokerage firm offers well-rounded and authoritative educational materials. Its official website houses relevant articles about market movements, fundamental and technical analyses, and other analytics- all for free. An additional section is provided that discusses the technicalities of Options24, giving a comprehensive rundown from registration up to live trading. 
24Option is inarguably impressive in terms of free webinars and there are those that clients can avail for an additional fee. Add to this are other videos about know-hows, providing a guide on the fundamentals of trading with great focus on CFD trading, pips calculation, risk managements, and conducting analyses. Lastly, 24Option increased clients' ease of use as there is a separate section dedicated for glossary. 
Customer Service- Clients, as well as interested parties, are provided with wide and active lines of communication channels for assistance. Customers with queries may reach 24Options via phone, email, and the most impressive- its live chat feature. 
While the company's customer assistance is proven to be highly responsive, their office is closed during weekends. Moreover, its live chat is available during work hours only. As this is the case, questions and concerns can be placed using other means outside business hours.
Conclusion
The inadequacy of relevant information is discouraging for traders. This may also raise concerns about its legitimacy.  However, in terms of trade prices, it is safe to say that 24Options has decent offers. Its accounts are heavily diversified, and all conditions appear to be favorable for clients. It also has the most impressive educational materials and a highly responsive customer support.