12Trader was established by a group of experts on financial markets who came together to provide quality services in foreign exchange, stocks, and contracts trading. The two key principles of this broker are transparency and credibility as it continues on a path of development and growth. It assures that it operates in the best interest of their clients. 
12Trader Regulation and Security
12Trader was founded in 2013 in the United Kingdom with international offices in several countries, including Saint Vincent and the Grenadines. It is authorized to provide financial services under the regulation  of the Cyprus Securities and Exchange Commission and Vanuatu Financial Services Commission. It has acquired the trust of its client base in its years of service. Despite holding a European license and being regulated by respectable agencies, 12Trader has been plagued by controversies and negative reviews for many years. Reviewers have criticized the lack of innovativeness in 12Trader's services and its clients have complained about its services. 
While a European license in the financial services industry has been labeled as the indicator of a good and reliable service, 12Trader's reputation leans on the contrary. It has been accused of unsafe trading and scamming accusations. It is very important that traders know the background as well as the reputation of the broker they are trading with since the safety of their information and funds are on the line. All traders must be cautious about trading with unreliable brokers since the risks are high. 
12Trader Review of Services 
12Trader offers a decent number of trading services. However, when compared to other brokers of its standing, it definitely falls short. It is lacking when it comes to offering innovative solutions as well as guaranteeing the security of its clients.
SIRIX Trading Platform
12Trader offers SIRIX, a web social trading platform that allows speedy execution of trades from any browser. It is equipped with an advanced charting package and multiple indicators that helps the traders execute different strategies of any level of complexity. It also has a built-in social trading stream that displays the trading activities of other traders, hence allowing you to replicate the successful trades. 
Social Trading
The SIRIX platform also offers social trading through providing an avenue for a community of traders to interact, share, and exchange trading information and skills. This community of traders are beneficial for beginners since it lets them study the skills and activities of successful traders. It permits copy trading and social interaction between 12Trader's clients.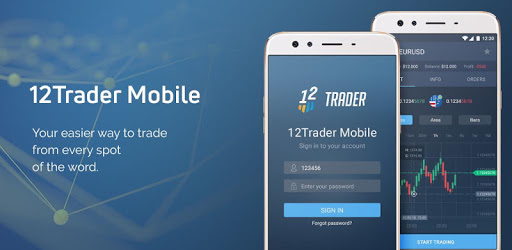 Account Types
12Trader offers three account types to clients: Micro, Silver, and Gold. Below are their specifications.
Micro Account:

12Trader's basic account is curated to be accessible in foreign exchange and CFDs trading. It is catered to beginning traders who need polishing in their trading skills. The minimum deposit amount for this account is $500. 

Silver Account:

This account requires a minimum deposit of $10,000, which is expensive even for professional traders. Still, this account offers trading perks and advantages like a full education center, additional tools, and a mobile version of the SIRIX platform. 
Gold Account:

This is 12Trader's most expensive account, requiring a minimum deposit of $25,000. This top-grade account offers advice options from financial advisors, VIP customer support available 24/7, and competitive spreads. This account is targeted towards expert traders who invest in assets for the long-term.
Spreads and Leverage

12Trader provides minimum fixed spreads for most of their accounts. For example, the Gold Account offers a minimum of 0.6 pips for trading the EUR/USD pair. Meanwhile, the spreads for the Micro and the Silver account are less. 
On the other hand, the leverage for all account types is 1:200, but clients can request for higher spreads of up to 1:300 and 1:400 for Silver and Gold accounts respectively. Still, traders must be wary that higher leverage increases the risks just as much as it increases potential profits. Requesting for higher leverage must be done with caution. 
Support Team
12Trader has a dedicated customer support team that is available 24/7. Traders can use the services offered by the support team any time of the day. The support team offers live chat with a personal manager and financial expert. They are available through phone, email, social media, and post. 
12Trader Conclusion
12Trader is a financial services provider that caters to all types of traders. It offers decent services in forex, stocks, cryptocurrencies, and CFDs, but it is lacking in several aspects. It's security is also in question due to hundreds of allegations against it. It is important that traders read the risk disclosures before trading with this broker as well as do their own proper background research. Trade with caution.